Goelia Residence Le Domaine de Pont-Aven
Strong Points
Overlooking Pont-Aven, 6 minutes walk from the Aven
Heated indoor pool
Sauna and whirlpool
The residence
The 4* Goélia Le Domaine de Pont-Aven holiday residence with indoor heated swimming pool, is located in Pont-Aven, in Finistère, in southern Brittany, a few minutes walk from the Aven and the Museum of Fine Arts.


GOELIA LE DOMAINE DE PONT-AVEN HOLIDAY RESIDENCE
The 3* Goélia Le Domaine de Pont-Aven holiday residence is located in a residential area, overlooking the charming town of Pont Aven, 6 minutes walk from the Aven and the Museum of Fine Arts, in the heart of a huge park.
The Port and the center of Pont Aven can be reached directly via a private stone staircase (communal path with a stone staircase not recommended for people with walking difficulties). The large beaches are located within a radius of 13 to 15km ( the superb beach of Port Manec'h at 11km (with nautical club) and the beach of Tahiti at 12km among others.
The residence consists of a main building "Le Manoir" housing the reception, the indoor heated swimming pool, the sauna and whirlpool bath, and the studios and 2 and 3 rooms for 2 to 4 people air-conditioned, as well as a hamlet of semi-detached houses for 6 people built in a style inspired by Breton architecture.
The residence also offers a breakfast room (to be booked the day before).


OUR ACCOMMODATIONS FOR YOUR HOLIDAYS


The spacious apartments have a fully fitted kitchen (vitroceramic hobs, dishwasher, refrigerator, microwave, kettle, Nespresso coffee maker, toaster). Television is included. The bathrooms have a hair dryer, separated WC only for the studios and 2 rooms. The apartments (studio and apartments with 1 or 2 rooms) are air conditioned. Free car park (one space per apartment).

Please note : studios are furnished like hotel rooms with a 160cm bed (twin beds also possible in the 2 people studio with balcony - request to be specified when booking). They have an integrated mini kitchen (dishwasher, refrigerator, microwave, kettle, coffee maker and toaster).

2 PEOPLE STUDIO WITHOUT BALCONY
Living room with a double bed
2/3 PEOPLE STUDIO WITHOUT BALCONY
Living room with a double bed
2 PEOPLE STUDIO WITH BALCONY
Living room with a double bed
2 ROOMS 4 PEOPLE
Living room with a sofa bed
3 ROOMS DUPLEX 4/6 PEOPLE SEMI-DETACHED HOUSE
Living room with a sofa bed
4 ROOMS DUPLEX 6 PEOPLE HOUSE
The station
Your holidays in Pont-Aven, between art gallery, heritage and sports activities in traditional Brittany.
Pont-Aven near Concarneau, is an ideal destination to discover the unmissable sites of Finistère and South Brittany: Pont-Aven, the city of painters known worldwide thanks to the Pont-Aven School and the painters who made it famous (Gauguin, Emile Bernard, Paul Serusier).

The city nestled on the banks of the Aven, will seduce you with the charm of its streets, the richness of its artistic life and its culinary heritage with the famous butter cakes and flat oysters of the river of Bélon.

Pont-Aven continues this artistic tradition to this day, and is home to a museum and some sixty galleries and artist workshops, to the delight of art and history enthusiasts.

There are many leisure opportunities on Pont Aven and its surroundings:
- The territory 'From Concarneau to Pont-Aven' offers hiking enthusiasts a diversity of landscapes and incredible atmospheres between the superb GR 34 which runs along the sea, the banks of the Aven, oak forests and Breton heaths.
- For those who love beaches and water activities, the beaches of Concarneau, Névez and Trégunc are among the most beautiful in Brittany: crystal clear waters, fine sand, granite chaos...
- Maritime Excursions: discovery of the beautiful rias Aven and Belon on board of a panoramic view boat, the Archipelago of Glénan, the Odet, the Bay of Concarneau...
- Many activities: Horse riding, golf with 3 courses within 30 minutes of the residence, leisure parks, classes and painting courses... there is something for everyone.
All the ingredients are there for an active and rewarding holiday in Brittany.

Not to be missed in Pont-Aven:
- The tidal port: a pretty colorful port, starting point for hiking or boat trips with the stars Aven Bélon.
- Xavier Grall Drive
- The run-of-the-river mills: 14 water mills once in operation to discover the time of a stroll along the water.
- The Bois d'Amour: a mythical place in Pont-Aven, a one-hour walk under the great beech trees along the banks of the Aven,
- Les galettes de Pont-d'Aven: visit and tasting of biscuits

Events to remember in Pont-Aven:
First of all, Pont-Aven offers a market all year round on Tuesday morning. You will also find markets in Concarneau and Trégunc in the region.
Practical information
CONTACT DETAILS OF THE HOLIDAY RESIDENCE

Goélia Le Domaine de Pont-Aven
6 rue Saint-Guénolé
29330 PONT-AVEN
02.98.09.93.60
info.pont-aven@goelia.com
Residence open from February to November, and during the Christmas and New Year's holidays


OUR INCLUDED SERVICES:
- Water and electricity charges
- Television
- Outdoor car park (1 space per accommodation)
- Access to the indoor swimming pool and whirlpool integrated into it

OUR EXTRA SERVICES :

- Cancelation insurance for all justified causes: Cancelation insurance can be taken out when booking. This guarantee is valid in particular for medical reasons, accident, death including illness due to an epidemic or pandemic (declared illness, case contact, failure to obtain PCR test results before departure - traveler or close family member). The price of this insurance is variable according to the total amount of your stay. If you add a service after the validation of the file, the amount of insurance can change (excluding file fees and insurance - price per accommodation): from 25€.
For more information: https://www.goelia.com/guide/en/cancellation/
- Multi-risk insurance: This insurance includes our cancelation guarantee as well as special snow cancelation (breakage or theft of personal ski equipment, loss or theft of ski lift pass, interruption of stay, interruption of snow activity), assistance and repatriation. The price of this insurance is scalable according to the total amount of your stay (excluding application fees - price per accommodation): from 45€.
For more information: https://www.goelia.com/guide/en/comprehensive/
These insurances are to be booked at the time of booking and cannot be ordered later.

- Bed linen : €12.50/bed. To be paid on site.

- Beds made on arrival : €25/bed. To be paid on site. Pre-booking required.

- Bathroom towels : €10/person. To be paid on site.
- WiFi access (price per device) : simply connect to our supplier's website and pay directly by credit card (visa or mastercard). The prices are as follows: 1 day : €6, 3 days : €12, 1 week : €22, 2 weeks : €35, 1 week family offer (3 devices) : €33, 2 weeks family offer : €42. Goélia will let you know, when you arrive, the homepage of the website, but is not involved in the order, or in the connection.
- End of stay cleaning : If the accommodation is not left clean, or if the holidaymaker prefers not to do it: €60 for accommodation for 2 to 5 people, €79 for accommodation for 6 to 7 people (to be paid on site). In any case, the accommodation must be returned with the kitchenette clean (dishes washed and stored). Daily cleaning on request.

- Pets : Small pets are accepted. Extra charge per animal to be paid on site of €10.50/night, €49/week. Please mention when booking (anti-rabies certificate is mandatory). Attack and guard dogs are not allowed. 1 animal per accommodation only.
- Breakfast : €13/adult/day and €7.50/child/day. Pre-booking required.
- Access to the wellness area (sauna): €14 for 20 min solo session - €21 for 20 min duo session / €11.50 for additional person with a maximum of 6 people (access prohibited to minors unaccompanied by an adult and to children under 16).

- Baby equipment rental (bed, chair and/or bath) : €5/stay. To be booked at the same time as the accommodation. We do not provide additional mattresses in order to guarantee the safety of your children. To be paid on site. Pre-booking required, subject to availability.
INFORMATION FOR YOUR STAY:

- Departure and arrival times :
Arrivals: Saturday between 15:30 and 19:00. For any arrival outside these times or on another day, please contact the residence.
Departures: Before 10:00
- Deposit: 250€/accommodation (to be paid on site). This deposit will be returned to you on the day of departure after inventory or by post within 8 days in case of departures outside opening hours.
- Tourist tax: 0.94€/person/day. According to the regulations in force. (The decision may be amended at any time by the Municipality). As this tax is a local tax, Goélia is not responsible for any changes.
All your requests (floor, view, apartment No.,etc.) will be taken into account as far as possible, but cannot be guaranteed.
Access to the residence
By car : A81 direction Rennes, exit 10, join the N24 until exit 48 direction Pont-Aven.

By train : Gare de Rosporden 16 km (direct link Paris): 4 daily round trips Paris-Quimper by TGV. Quimperlé SNCF Train Station 15 km away: direct trains from Lyon and Bordeaux

By plane : The residence is 35 km from the airports of Quimper-Cornwall and Lorient-Lan Bihoué, 1 hour from Brest International Airport and 2 hours from Nantes International Airport.
Opinion
Our services
Free services
Indoor pool

Free parking

WiFi access at reception

Television
Chargeable services
Sauna or hammam

Continental Breakfast

Baby high chair

baby equipment (bed)

End of stay cleanng
Residences that may interest you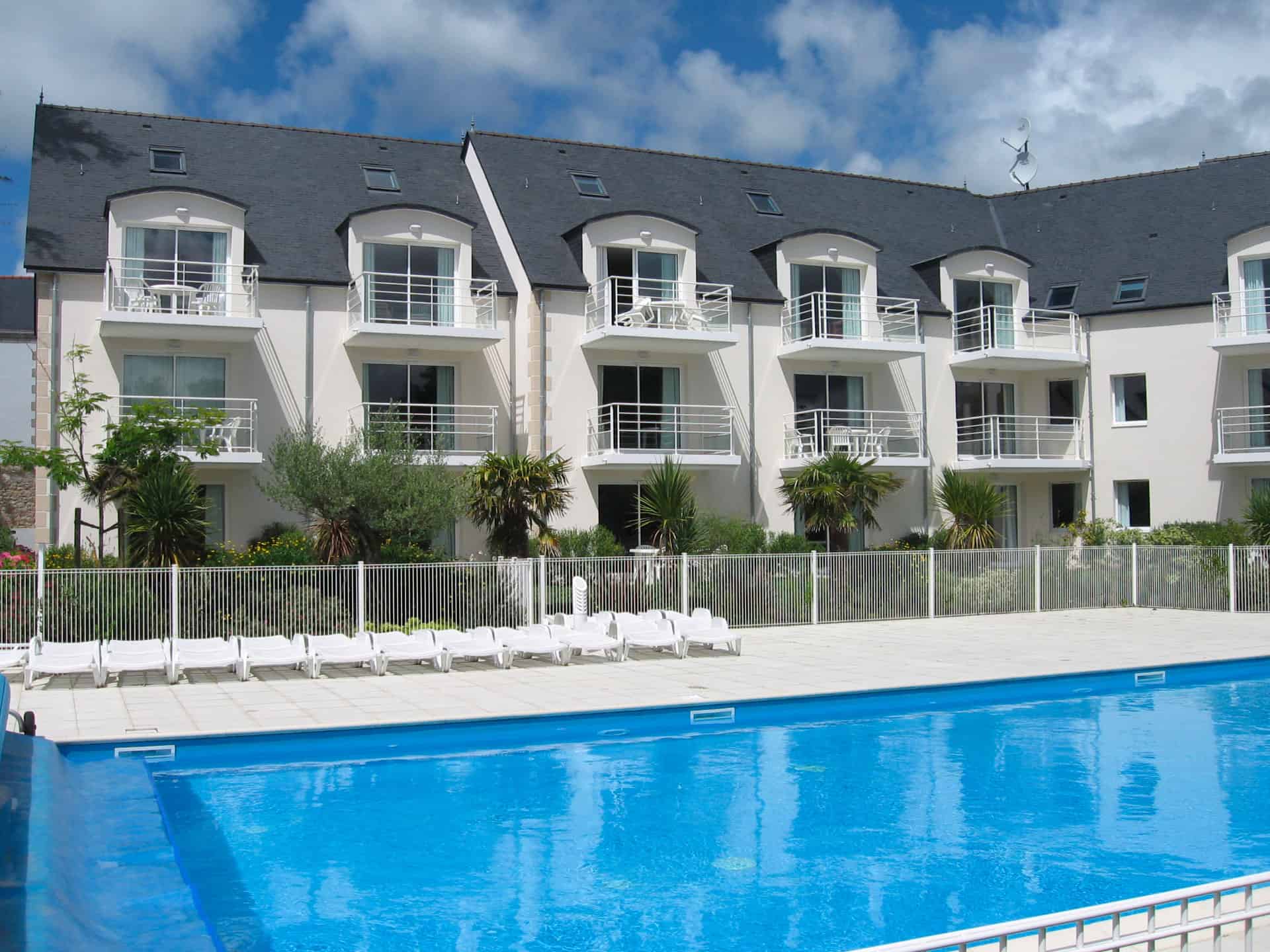 Résidence Goélia Le Domaine des Glenan
Fouesnant
Seaside and tourist resort of the South Finistere with its beaches and coves of Beg Meil. Archipelago of Glénan at 1 hour by boat.Holiday home in Fouesnant - Beg Meil with heated outdoor swimmingpool. The beach is at 100m away, shops and the center are close.
CONSUME LOCAL
Our local partners are committed to your holidays
QUALITY CHART
All our commitments to have a good holiday
SECURE PAYMENT
Pay securely at Goélia