Résidence Goélia An Douar in Audierne
Strong Points
In front of the large sandy beach
Heated pool
TV included
Wellness area
Authentic Brittany, the Bigouden region
The residence
The 3-star tourist residence Goélia "An Douar", located in Audierne with heated outdoor swimming pool enjoys a special location, "right down by the water" facing the Atlantic Ocean and in front of the largest beach in Audierne (one road to cross), 1 km from Port d'Audierne and the town centre and 1.5 km from the marina at Esquibien.

RESIDENCE AN DOUAR:

The residence consists of apartments within 3 lovely buildings with their typical local architecture and slate roofs. Some apartments have a balcony or terrace on the ground floor, and all have a bay window, often with sea views.

During your stay, you can enjoy the heated outdoor pool which faces the sea (5m x 10m) which is open from 08/04/23 to 23/09/23, with a large sun terrace complete with sun loungers. Sauna and Turkish bath (extra charge)

The residence has underground parking (subject to availability).


OUR APARTMENTS FOR YOUR HOLIDAYS:

All our apartments have a fully equipped kitchenette with dishwasher, 2-burner ceramic hotplates, microwave oven, kettle, coffee maker, toaster, some with equipped terraces and balconies, bathrooms with WC, sometimes separate. TV included in all apartments.

*The top bunk is not suitable for children under 6 years (Decree No. 95.949 of 25/08/1995)

- IMPORTANT:
Never exceed the maximum capacity of authorized people in the accommodation. For security reasons, we should forbid you access (even for a baby).
2 PEOPLE STUDIO
Living room with sofa bed
4 PEOPLE MEZZANINE STUDIO
Living room with sofa bed
2 ROOMS DUPLEX 4 PEOPLE SEA VIEW
Living room with sofa bed
2/4 PEOPLE CABIN STUDIO
Living room with sofa bed
2 ROOMS 4 PEOPLE PATIO
Living room with sofa bed
Some units for disabled people
2 ROOMS DUPLEX 6/8 PEOPLE.
Living room with sofa bed
4 ROOMS DUPLEX 8 PEOPLE
Living room with sofa bed
The station
Audierne, a small municipality in the département of Finistère, 32km from Quimper and a small distance from the Pointe du Raz and the île de Sein, offers holidays makers the charm of a small fishing port with a dynamic character, with its lively docks and its streets with old stone on the hillside.

With its large fine sandy beach of Trescadec and its picturesque fishing port, Audierne brings together all the joys of a seaside resort, to share as a family or among friends: a beach club, water sports clubs (rowing, canoë-kayak, surfing, sea fishing, scuba diving, etc.).

The coastal path which stretches over 4.5km, gives you the chance to discover the diversity of a maritime estuary with its wild valleys, its tides changing the landscapes as the hours pass, and the port of Audierne, in the heart of the town, where the traces of history can be seen in the architecture and the landscape (dolmens, graves and neolithic tumulus ).

In the port, the large market offers you a choice of regional produce which makes Breton gastronomy famous: crêpes and biscuits, jams and soft fruits, "pie noire" cow's cheese, organic breads, fish and shellfish, as well as local craft products.

In July and in August, the streets of the little fishing port of Audierne take on a festive character thanks to the craft night market.

In Audierne, the tourist visits and leisure activities satisfy all tastes and ages: theAquashow, sea bird show, the maritime museum and its 2000 years of history, its seamanship workshop where you learn to make nautical knots, a walk on the île de Sein departing from Sainte Evette, the Passerelle des Capucins footbridge, previously called "le petit pont de bois " (the little wooden bridge).

10 mins. from the Pointe du Raz, Aquacap offers you a sporting and fun pool, with counter current swimming, whirl beds, geysers, a 50m slide, paddling pool with jets, a wellness area with sauna, jacuzzi and solarium. (Swimming courses from 3 years old)

Practical information
RESIDENCE CONTACT DETAILS:

Résidence Goélia "An Douar"
40 rue Jean-Jacques Rousseau
29770 AUDIERNE
Tel: 02.98.55.10.60
info.audierne@goelia.com
Residence open from April to November


OUR SUGGESTIONS TO HELP YOU ENJOY YOUR STAY:

AQUARIUM-AQUASHOW Goélia partner
Rue du Goyen - BP5 - 29770 AUDIERNE
Tel: 02.98.70.03.03 - Website: www.aquarium.fr


OUR INCLUDED SERVICES:

In the price of your stay, the following is included:
- Water and electricity charges
- Underground parking (one free space per accommodation unit, subject to availability)
- WIFI access at reception. Access limited to 30 minutes per day and per adult.
- Access to the heated outdoor swimming pool (5m x 10m) from 08/04/23 to 23/09/23
- Loan of baby equipment (cot, chair, bath): must be pre-booked at the same time as the accommodation and subject to availability. About beds, according to the manufacturers, we do not supply additional mattress to guarantee the safety of your children. From 15/11/23, paid service.
- Television


ADDITIONAL SERVICES:
- Cancellation insurance for all justified causes: Cancellation insurance can be taken out when booking. This cancellation guarantee is valid in particular for medical reasons, accident, death including illness due to an epidemic or pandemic (declared illness, contact case, failure to obtain PCR test results before departure - traveler or member of his immediate family). The price of this insurance varies according to the total amount of your stay. If you add a service after validation of the file, the amount of insurance may change (excluding administrative fees and insurance - price per accommodation): from €25.
For more information: https://www.goelia.com/guide/cancellation/
- Multi-risk insurance: This insurance covers our cancellation guarantee as well as snow cancellation (breakage or theft of personal ski equipment, loss or theft of ski pass, interruption of stay, interruption of snow activity), assistance and repatriation. The price of this insurance varies according to the total amount of your stay. If you add a service after validation of the file, the amount of insurance may change(excluding booking fees - price per accommodation): from €45.
For more information : https://www.goelia.com/guide/comprehensive/

These insurances must be reserved at the time of booking and cannot be ordered subsequently.

- Our four-legged friends: Small pets are allowed on a lead for €45/week, €8/night or €90/3 weeks or more. Please mention when booking (anti-rabies certificate is mandatory). Attack dogs (pitbull) and 2nd cat. (guard/protection) are PROHIBITED. 1 animal per accommodation only.
- End of stay cleaning : If the accommodation is not left in a perfect state of cleanliness, or if the holidaymaker prefers not to do it: €51 for accommodation for 2 to 5 people, €72 for accommodation for 6 to 7 people, €82 for a accommodation for 8 to 9 people (to be paid on site). In any case, the accommodation must be returned with the kitchenette clean (dishes washed and stored).

- Wifi access: Simply connect to our supplier's website and pay directly by bank card (visa or mastercard) on 1st connection. The prices are as follows: €6 per day / €12 3 days / €20 per week / €30 for 2 weeks / €34 family offer for 1 week (3 devices) / €51 family offer for 2 weeks. Goélia will let you know, when you arrive, the homepage of the website, but is not involved in the order, or in the connection.

- Bed linen rental (sheets and pillowcases): €11/bed - To be paid on site

- Beds made on arrival: €22/bed - To be paid on site

- Bathroom linen: €8.50/person/change - To be paid on site
- Privatized wellness area access (sauna and hammam): €12/30-minute solo session - €20 / duo session -
€10 per additional person with a maximum of 6 people

- From arrivals on 15/11/23- Baby equipment rental (bed, chair and or bath) left in the accommodation: €5 / stay. To be reserved at the same time as the accommodation and according to availability. Regarding the beds, in accordance with the recommendations of the manufacturers, we do not provide additional mattresses in order to guarantee the safety of your children (to be paid on site).

- Departure and arrival times:
Arrivals: Arrivals are on Saturdays between 3.30pm and 7pm. The time of the provision of housing may vary according to the preparation of it. For any arrival outside these hours or another day, please contact the residence.
Departures: Before 10am


- Deposit: 250 € / apartment. This deposit will be returned the day of departure after inventory or by mail within 8 days in case of departure outside opening hours.

- Tourist tax: €0.90/day/person over 13 years. As this tax is a local tax, Goélia is not responsible for any modifications.

- All your wishes (exhibition, floor, view, apartment number ...) will be taken into account as far as possible, but can not be guaranteed
Access to the residence
*Access by road:
Cap-Sizun is accessible via the N165 Quimper exit onto D765, then D784 to Pointe du Raz
Expressway linking Rennes to Lorient then Quimper, first exit.
* Access by plane:
Quimper-Pluguffan aerodrome 25km from Audierne
Orly-Quimper: 1 hour
* Access by boat:
Port of Roscoff (125km)
* Access by train:
SNCF train station in Quimper. Day and night connections to Nantes-Rennes-Paris-Lyon-Bordeaux.
In Quimper, coach connections to Audierne-Pointe du Raz
(Quimper bus station information)
Opinion
Our services
Free services
Pool

baby equipment (bed)

Baby high chair

Underground parking

WiFi access at reception

Television
Chargeable services
Pets

Wellness Area

Wifi access

End of stay cleanng

Laundromat
Residences that may interest you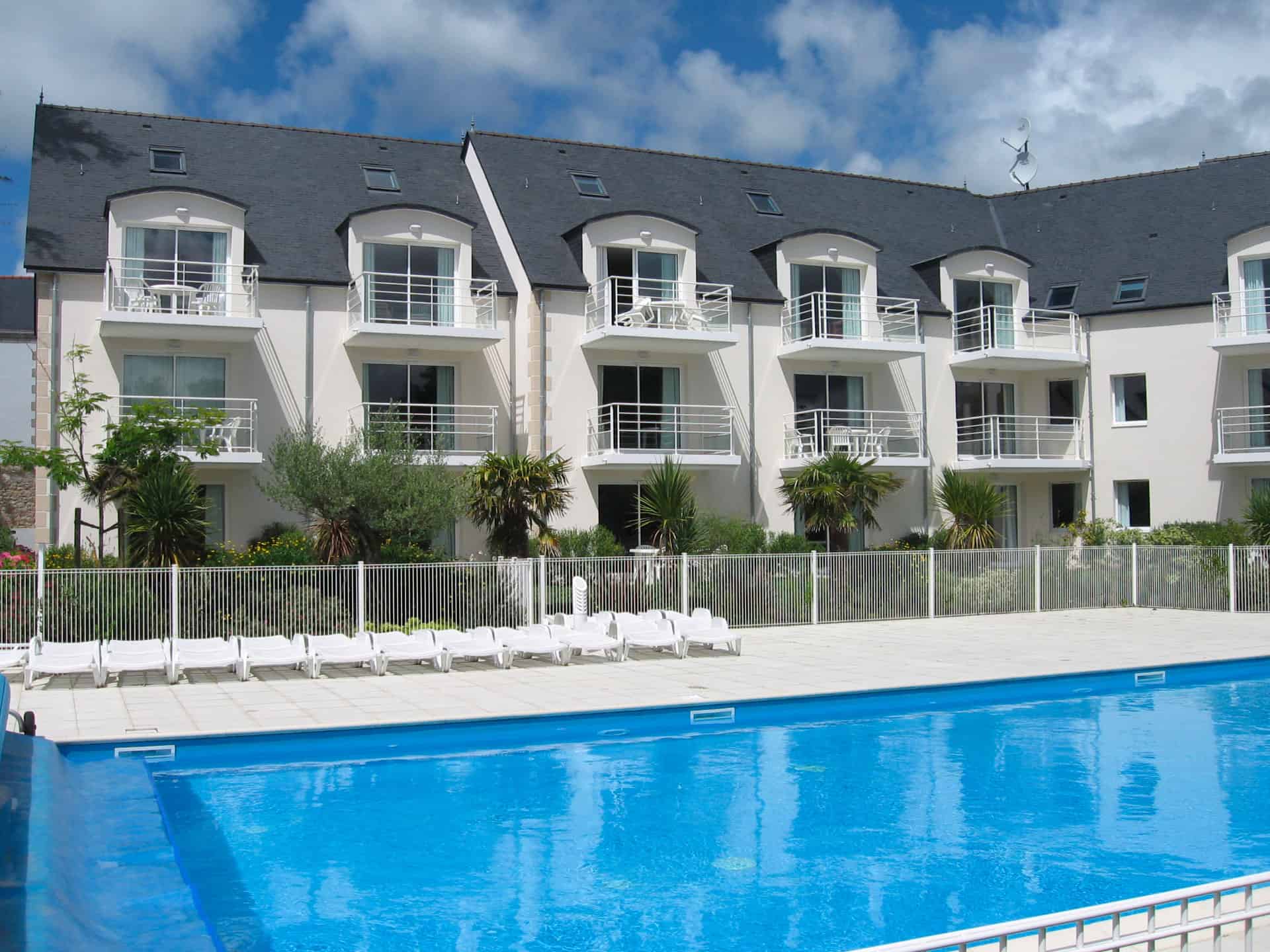 Résidence Goélia Le Domaine des Glenan
Fouesnant
Seaside and tourist resort of the South Finistere with its beaches and coves of Beg Meil. Archipelago of Glénan at 1 hour by boat. Holiday home in Fouesnant - Beg Meil with heated outdoor swimmingpool. The beach is at 100m away, shops and the center are close.
CONSUME LOCAL
Our local partners are committed to your holidays
QUALITY CHART
All our commitments to have a good holiday
SECURE PAYMENT
Pay securely at Goélia