Résidence Goélia Les 7 Iles
Strong Points
Exceptional location less than 200m from the beaches of Trestraou and Casino
Covered heated pool,
Underground parking included
TV included
The residence
The 3* "Goélia LES 7 ILES" tourist complex with heated covered pool, is located in the heart of the seaside resort of Perros-Guirec very near to the wonderful white sandy beach of Trestraou (200m), but also near to the Casino, the Spa "Les Bains" and the Palais des Congrès.

LES 7 ILES COMPLEX:

The "Goélia LES 7 ILES" tourist complex is ideally based in the heart of the Pink Granite Coast, in Perros-Guirec, a resort that is known for being lively all year round.

During your stay, make the most of the heated covered pool, a fitness room, a sauna (extra charge), underground parking, as well as a television included in our prices. A breakfast room is also available for you (book the day before on site).

A car is not essential but we advise it to easily discover the region!


OUR APARTMENTS FOR YOUR HOLIDAYS:

The very spacious accommodation all has a furnished kitchenette (vitro-ceramic hobs, a microwave grill, a dishwasher, a refrigerator, an extractor hood, a kettle, a Nespresso coffee maker and a toaster). Shower room with WC and heated towel rail (WCs sometimes separate in the 3 room 7 people accommodation). One underground car park space per accommodation. Each apartment has a small balcony furnished with a table and 2 garden chairs. Television included.
IMPORTANT:
You must never exceed the maximum number of people authorised for the dwelling. For safety reasons, we would have to deny you access (even if it is a baby).
The station
Perros-Guirec is one of the most renowned seaside resorts in France. Located in Brittany, on the Côtes d'Armor, it is the ideal starting point for discovering the emblematic sites of the Pink Granite coast: Ploumanac'h, a village chosen as the favourite of the French in 2015 and famous for its granite outcrops, the famous GR 34: the "sentier des Douaniers ", the Archipelago of Sept-Iles, the enchanting Valley of Les Traouïros, Plougrescant, the island of Bréhat, a real little paradise, etc.

You can enjoy, in different ways, the numerous leisure activities and sports offered by the resort. It is up to you to choose how you would like to discover the region:

-Yachting: Discover the coast thanks to a walk organised by the Water sports centre of Perros-Guirec. From 4 years old, courses on offer in catamaran, sailing dinghy but also windsurfing or kayaking.

- Relaxation and leisure activities: The Casino Barrière welcomes you to its slot machines , 2 screening rooms, and also the AGAPA Spa Nuxe as well as the Spa "Les Bains" springs to relax.

- For the children : 3 beach clubs in July and August give you the option of accommodating your little darlings, but do not hesitate to do activities with them: The little merry-go-round, the miniature port and the mini golf are some of the events to do as a family.

- For the foodies, the resort is full of numerous restaurants and bars where you can enjoy the French specialities but especially the Breton ones.
Practical information
CONTACT DETAILS FOR THE RESIDENCE:

Résidence Goélia LES 7 ILES:
92 avenue du Casino
22700 Perros-Guirec
Tel.: 02 96 45 20 20
info.perros@goelia.com

Residence open from February to November, and during the Christmas and New Year's holidays


OUR INCLUDED SERVICES:
In the price of your stay, the following is included:
- Water and electricity charges
- Covered heated pool (dimensions: 12m x 6m - depth: from 1.10m to 1.80m)
- Access to the fitness room
- Free WiFi access in the reception limited to 30 mins. per person per day
- Underground parking (1 space per accommodation)
- Television

OUR EXTRA SERVICES:

- Cancellation insurance for all justified causes
: Cancellation insurance can be taken out when booking. This cancellation guarantee is valid in particular for medical reasons, accident, death including illness due to an epidemic or pandemic (declared illness, contact case, failure to obtain PCR test results before departure - traveler or member of his immediate family). The price of this insurance varies according to the total amount of your stay. If you add a service after validation of the file, the amount of insurance may change (excluding administrative fees and insurance - price per accommodation): from €25.
For more information: https://www.goelia.com/guide/cancellation/
- Multi-risk insurance: This insurance covers our cancellation guarantee as well as snow cancellation (breakage or theft of personal ski equipment, loss or theft of ski pass, interruption of stay, interruption of snow activity), assistance and repatriation. The price of this insurance varies according to the total amount of your stay. If you add a service after validation of the file, the amount of insurance may change(excluding booking fees - price per accommodation): from €45.
For more information : https://www.goelia.com/guide/comprehensive/
These insurances must be reserved at the time of booking and cannot be ordered subsequently.
- Our animal friends:
Small pets are accepted on a leash subject to an extra charge per animal to be paid on site of €49 per week, €10.50 per night. Please specify when checking-in. Anti-rabies certificate mandatory. Attack dogs and 2nd category dogs (guard and defence) are strictly banned in our complexes. Just one animal is allowed per accommodation.

- End of stay cleaning: If the accommodation is not left in a perfect state of cleanliness, or if the holidaymaker prefers not to do it: €60 for accommodation for 2 to 5 people, €79 for accommodation for 6 to 7 people (to be paid on site). In any case, the accommodation must be returned with the kitchenette clean (dishes washed and stored).
- Beds made on arrival (including sheets): €25 per bed. To be paid on site.

- Sheets : €12.50 per bed. To be paid on site.

- Bathroom linen: (1 large towel, 1 small towel and 1 bathmat): €10 / change / person. To be paid on site.
- Privatized access to the sauna: €14/20 min solo session - €21/20 min duo session / €11.50 per additional person with a maximum of 6 people (access prohibited to minors unaccompanied by an adult and to children under 16).
-Continental breakfast in the dining room: consisting of a hot drink, a fruit juice, 2 pastries, bread, butter and jam: €13 per adult per day and €7.50 per child per day (from 6 to 12 years old). Must be pre-booked. Breakfast that has been booked but not consumed is still charged.
- WiFi in the accommodation: Simply connect to our supplier's website and pay directly by bank card (visa or mastercard) on 1st connection. The prices are as follows for 3devices (family): €6 per day / €12 3 days / €22 per week / €35 for 2 weeks. Goélia will let you know, when you arrive, the homepage of the website, but is not involved in the order, or in the connection.
- Laundromat : Rates on site

- Baby equipment rental (bed, chair and or bath) left in the accommodation: €5 / stay. To be reserved at the same time as the accommodation and according to availability. Regarding the beds, in accordance with the recommendations of the manufacturers, we do not provide additional mattresses in order to guarantee the safety of your children (to be paid on site).

INFORMATION FOR YOUR STAY:
- Departure and arrival times:

Arrivals: Saturday between 15:30 and 19:00. The hour of the provision of the accomodation can vary depending on the preparation of this one.

Departures: Before 10.00
Any arrivals outside these times must be agreed with the reception for the residence.
- Deposit: €250/unit (to be paid on site). This deposit will be returned on the day of departure after inventory or by mail within 8 days in case of departures outside the opening hours.
- Tourist tax: €1.60/day/person over 18 (The decision can be changed at any time by the Municipality). As this is a local tax, Goélia is not responsible for any changes.

- All your wishes (location, floor, view apartment no., etc.) will be taken into account as far as possible, but cannot be guaranteed.

Access to the residence
By train:
Lannion SNCF train station (10km) - Tel.: 08 92 35 35 35
Paris - Lannion TGV return *July-August)
Lannion - Perros Guirec - TIBUS bus connection - line 15 - 0 810 22 22 22 - www.tibus.fr
Paris-Brest line (stop in Plouaret Trégor)
www.voyage-sncf.com

By aeroplane:
Lannion airport - Côte de Granit Rose (6km) - Tel.: 02 96 05 82 22 - service runs three times a day
Paris - Lannion return journey all year round
www.lannion.aeroport.fr

By road:
A11: Parris-Rennes
N12: Rennes - Perros Guirec
Opinion
Our services
Free services
Indoor pool

Underground parking

Fitness room

WiFi access at reception

Television
Chargeable services
Pets

Massages

Sauna or hammam

Wifi access

Continental Breakfast

Baby high chair

baby equipment (bed)

End of stay cleanng

Laundromat
Residences that may interest you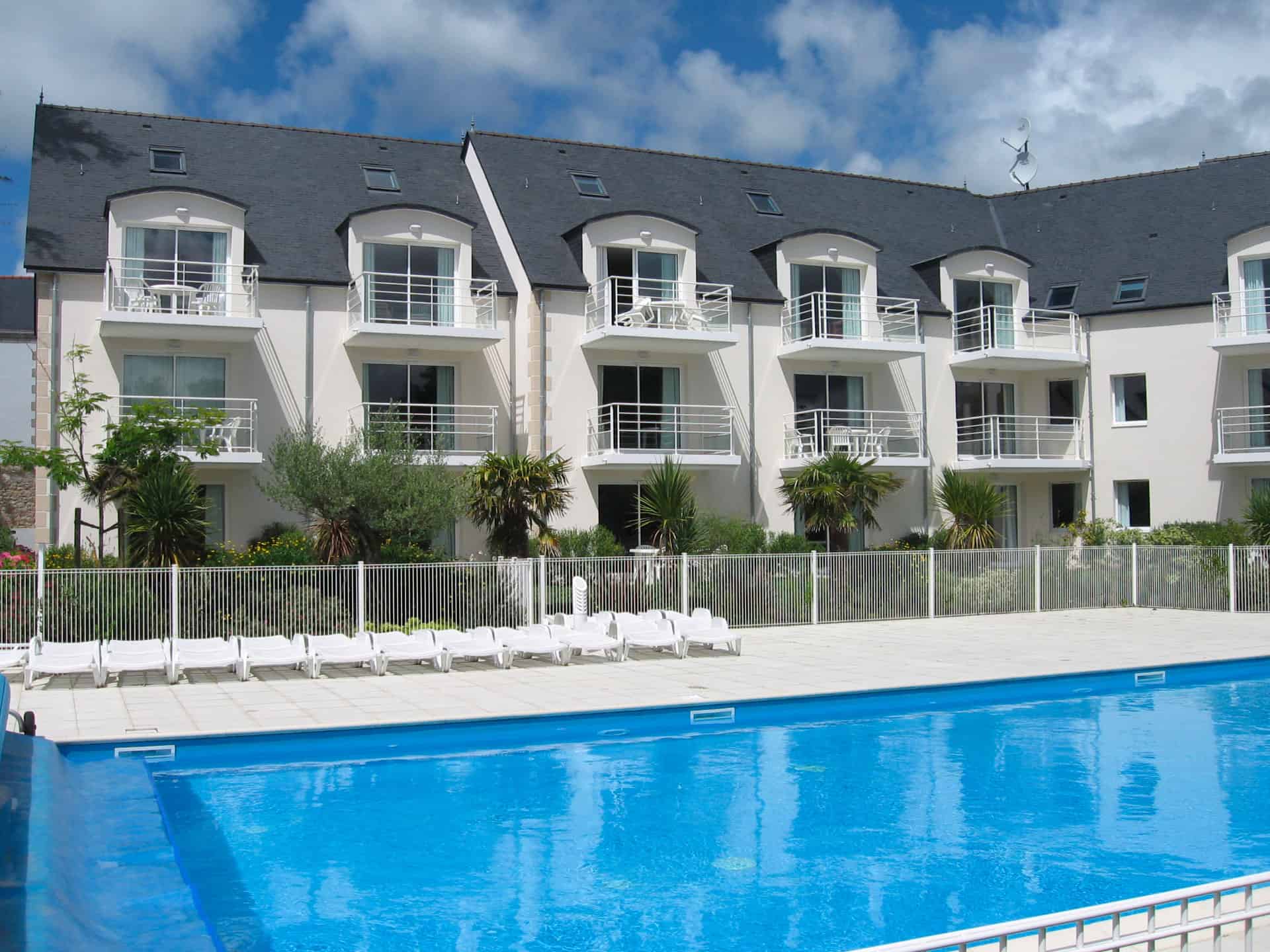 Résidence Goélia Le Domaine des Glenan
Fouesnant
Seaside and tourist resort of the South Finistere with its beaches and coves of Beg Meil. Archipelago of Glénan at 1 hour by boat.Holiday home in Fouesnant - Beg Meil with heated outdoor swimmingpool. The beach is at 100m away, shops and the center are close.
CONSUME LOCAL
Our local partners are committed to your holidays
QUALITY CHART
All our commitments to have a good holiday
SECURE PAYMENT
Pay securely at Goélia