Station residences
Holiday residence COLY • Goélia Les Cottages du Lac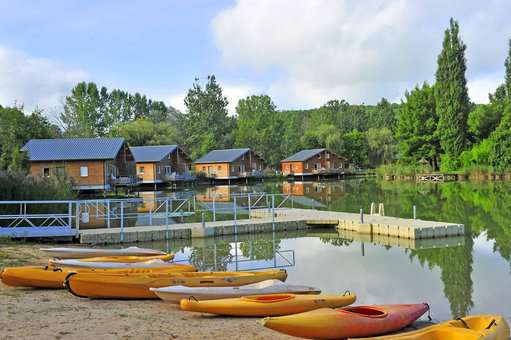 Southwest • St Amand de Coly
The 3*** Goélia Les Cottages du Lac tourist complex, is located in the heart of Périgord Noir, in Coly. LES COTTAGES DU LAC COMPLEXIn a wooded 20 ha property and around a private lake, the Goélia les Cottages du Lac 3*** tourist complex is suitable whatever you wan[...]
Heated pool and children's pool
Cottages on stilts or in the 20 ha grounds
Tennis court, multi-sports grounds, mini golf
Kayak hire
Discover Périgord Noir
TV included
Useful information
In the heart of Périgord Noir in the Dordogne in Aquitaine, surrounded by verdant valleys interspersed with winding streams, lakes and rivers (the Vézère, the Beune and the Dordogne), the charming little village of Saint Amand de Coly welcomes you for a stay combining relaxation, discovery and nature activities.

Périgord Noir takes its name from the famous truffle and the dark colour of its oaks, its tobacco fields and its chestnut trees.
Between the Vézère and the Dordogne valleys, a rich touristic journey awaits you, interspersed with caves, cave villages, sites with Lauze stone roofs and châteaux, tourist sites which are a testament to an exceptional pre-historic and cultural heritage: Les Eyzies-de-Tayac, global capital of pre-history, the caves of Lascaux Montignac, and Cazelle, the crystal cathedral of Gouffre de Proumeyssac, the pre-historic sites and deposits of Montignac.

Sport and culture, the Dordogne brings its assets together. The variety of natural spaces offers lots of options: Golf course in Souillac, speleology and climbing in Vezac, hot-air balloon trips above Périgord, hikes, mountain biking and horse-riding, quad-biking in the forest.

Thanks to the rivers, the joys of the water are not lacking: cruises in Gabare to discover the banks of the Dordogne and its farmhouses, trips in canoë-kayak on the Vézère and the Dordogne, swimming in fresh water in the lakes, adventure courses and leisure parks.

The valleys of Périgord Noir also reveal unique culinary flavours: foie gras, truffles, walnut and hazelnut oils, confits, strawberries, asparagus and ceps from Périgord, wines and spirits garnish the stools of numerous markets and the tables of restaurants; they often benefit from a certification.
By train: Train station of Brives (arrange a taxi).
By aeroplane: BORDEAUX airport.
By road: From Paris, head in the Bordeaux direction via the A10, then the A71 in the Clermont-Ferrand direction, then A20 follow Toulouse, take exit 51 - Périgueux, Brive sud and take the N89 direction Périgueux to Le Lardin de Lazare and finally the D704 and the D 62 in the Coly direction
CONSUME LOCAL
Our local partners are committed to your holidays
QUALITY CHART
All our commitments to have a good holiday
SECURE PAYMENT
Pay securely at Goélia