Station residences
Holiday residence LE BUGUE • Goélia Le Hameau de la Vézère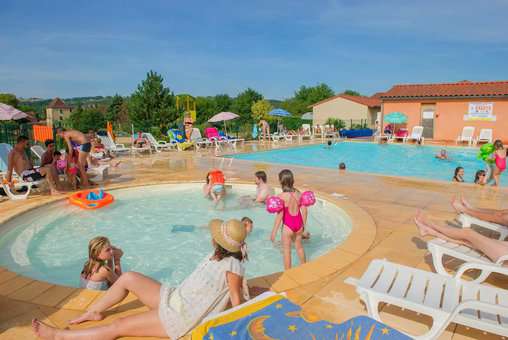 Southwest • Le Bugue
The Goélia 3*** Le Hameau de la Vézère tourist complex is located on the banks of the Vézère and has a heated outdoor pool.LE HAMEAU DE LA VEZERE COMPLEXThe complex is made up of traditional terraced houses, each with a terrace and a private open garden. For the co[...]
Heated outdoor pool and children's pool
A mini golf, playground for children
Small, 2 to 3 room, semi-detached houses
1 min. from Le Gouffre de Proumeyssac
25 mins. from Sarlat and 10 mins. from Les Eyzies
20 mins. from the Chateaux of Beynac, Castelnaud and the village of La Roque Gageac and Domme
Useful information
Le Bugue is one of the most beautiful natural French regions, in the heart of the Dordogne, the ideal starting point for visiting Périgord Noir.

Fans of gastronomy and fine wines, your holidays will certainly be gourmet in Périgord, one of the regions of France renowned throughout the world for its prestigious culinary specialities. Discover foie gras, truffles and duck breast fillets as well as very fine wines.

Dordogne is full of wonderful prehistoric sites, such as the famous Lascaux cave and the towns of Sarlat and Les Eyzies de Tayac (world capital of prehistory). To visit for both fun and cultural holidays. In total, there are 15 sites of the Vézère Valley which have been listed as UNESCO world heritage since 1979.

Périgord Noir is the ideal place for green holidays, a good number of activities are on offer: canoeing, hiking, mini golf, swimming, etc.

Nearby, discover the towns of Sarlat and Périgueux (capital of Périgord), both, listed Ville d'Art et d'Histoire (Town of Art and History). You will find numerous restaurants, bars and small local produce shops.

For nature fans, the Périgord-Limousin regional park opens its doors to you with over 1800km² of protected areas to discover the fauna and flora of this region. By train: Paris-Souillac or Paris-Périgueux (via Limoges ) - Toulouse-Souillac or Toulouse-Périgueux (via Agen or Brive-la-Gaillarde

Train station in Le Bugue itself and in Le Buisson (10 mins. from Le Bugue)
Toulouse-Bugue: approximately 2 hours 30 mins.
Bordeaux-Bugue: approximately 2 hours 30 mins.
Perigueux-Bugue: 45 mins.

By road:
Paris-Sarlat: A20 motorway to Souillac (approx. 4 hours 30 mins.). Souillac-Sarlat (D703) which turns into the D704A, then Sarlat-Les Eyzies (D47) and finally the D706 Les Eyzies to Le Bugue. Arrive in the centre of Le Bugue and take the D31 in the Le Buisson direction. Cross the bridge, take the 1st road on the left (D31E), the complex is after the level-crossing (250m on the right)
Bordeaux-Périgueux: A89 motorway (approx. 1 hour 30 mins.)
Toulouse-Sarlat: motorway to Souillac, then RD 704 to Sarlat (approx. 2 hours 30 mins)
Lyon-Périgueux: A72 motorway to Clermont-Ferrand, then A89 motorway
Toulouse-Bugue: about 2hr30
Bordeaux-Bugue: about 2hr30
CONSUME LOCAL
Our local partners are committed to your holidays
QUALITY CHART
All our commitments to have a good holiday
SECURE PAYMENT
Pay securely at Goélia