ST FRANCOIS LONGCHAMP (73130)
Strong Points
Indoor pool
Shops nearby
A lively resort with many sporting activities
Luxury complex and apartments
TV included
The residence
The 3-star 4 VALLÉES Goélia holiday complex with heated indoor pool has a privileged location in St François Longchamp with shops and entertainment nearby!


LES 4 VALLÉES COMPLEX

The complex is located approximately 250 metres from the centre of St François-Longchamp (tourist office, cinema, discotheque) and the spa centre. You will also find, local shops such as the sports shop, bakery, supermarket, restaurants, newsstand, and regional products.

Our complex consists of small buildings (mostly south or west facing) and is perfectly integrated with the natural environment of the resort. On site you will find a reception with a lobby with a dedicated children's area (games and colouring), a heated indoor pool of 10m by 5m (free), 2 saunas (extra charge), free covered car park subject to availability, a car park outside, and an automatic laundromat. Some buildings have an elevator.


OUR APARTMENTS FOR YOUR HOLIDAYS


All our apartments for the most part have balconies on the ground floor, or sun-filled balconies upstairs.
They are fully equipped : Kitchenette with dishwasher, 4 burners (some units have 2 burners), extractor hood, refrigerator, microwave, toaster, electric coffee maker, electric kettle, toaster, balcony or terrace with at least 2 deckchairs. Towel dryers in the bathrooms. WiFi access in the unit for an extra charge to be booked in advance. TV included. Duvets in the apartments.
*The upper bunk is not suitable for children under 6 years (Decree No. 95.949 of 25/08/1995)
IMPORTANT:
You must never exceed the maximum number of people authorised for the dwelling. For safety reasons, we are required not to allow you access.

2 ROOMS 4 PEOPLE
Living room with sofa bed
3 ROOMS 6 PEOPLE
Living room with sofa bed
3 ROOMS CABIN 6/8 PEOPLE
Living room with sofa bed
4 ROOMS 6/8 PEOPLE
Living room with sofa bed
4 ROOMS DUPLEX 8 PEOPLE EXCEPTION
Living room with sofa bed
The station
Located on the Col de la Madeleine route, made famous by the Tour de France, Saint-François-Longchamp give you access to the wide open spaces.

Every Sunday the tourist office organises a welcome party and presents the weekly entertainment programme and all of the activities offered in the resort (outdoor pool and municipal tennis courts 100m from the complex, archery , mini golf, mountain biking and cycle-tourism, etc.), games, competitions, treasure hunts, concerts, etc.

The Child care- Kids club is located near to the complex Les 4 Vallées (10 minutes by foot), but shuttles will be able to be put in place to take the children at set times in the Longes area where the Le Rond Point des pistes and Le Village Gaulois are located, for example at 08:45 in the morning with a 17:30 return the evening).
->Example of activities :
Morning: painting workshops, flower pressing, outdoor games and a swimming pool.
Afternoons: water games, forest walks, visiting the donkeys, picnic outings, cow milking, orienteering games, etc.

N.B., all the shops and services of the resort close on 30/08 (first shops in LA CHAMBRE 12km away). Car essential afterwards

Other residences of the same station
St Francois Longchamp
Goélia Le Village Gaulois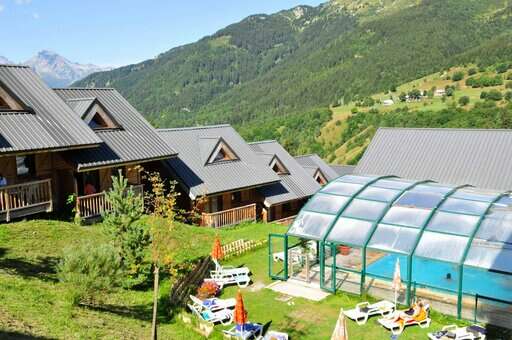 St Francois Longchamp
Goélia Le Rond Point des Pistes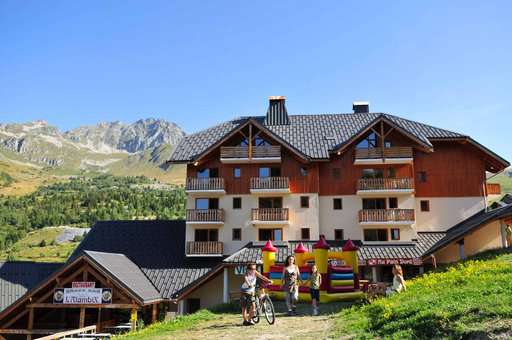 Practical information
CONTACT DETAILS FOR THE RESIDENCE

Les 4 Vallées Goélia Holiday Complex
Montgellafrey
73130 Saint-François Longchamp
Tel: 04 79 59 00 32
info.stfrancois-4vallees@goelia.com
Residence open from July to August

OUR SUGGESTIONS FOR A PLEASANT STAY

The apartments of the "Grande Ourse" building
It is possible to book 3 rooms 6 people or 4 rooms 8 people Plus units located in the building "La Grande Ourse" in the immediate vicinity of the ski lifts and shops (but 150 metres from the indoor pool). These units feature a large balcony of 10 to 15 m² approximately, facing south, with garden larch furniture and 2 deckchairs (for an additional charge of €56/week per unit, to be specified when booking, subject to availability, payment and confirmation on site, except 4P8, no extra charge). 4 units facing west do not have garden furniture and have a smaller terrace.


OUR SERVICES INCLUDED:

The following are included in the price of your holiday:
- Access to the indoor heated pool: 5m by 10m and 0.80m to 1.50m deep (free access during opening hours and reserved only for residents of the 4 Vallées)
- WIFI access at reception: during the opening hours of the reception. Access limited to 30 minutes per day and per adult.
- Water and electricity charges
- Loan of baby equipment (cot, chair, bath): must be pre-booked at the same time as the accommodation and subject to availability. About beds, according to the manufacturers, we do not supply additional mattress to guarantee the safety of your children. From 15/11/23, paid service.
- The covered car park (subject to availability) or car park outside
- Television


OUR SERVICES FOR AN ADDITIONAL CHARGE :
- Cancellation insurance for all justified causes: Cancellation insurance can be taken out when booking. This cancellation guarantee is valid in particular for medical reasons, accident, death including illness due to an epidemic or pandemic (declared illness, contact case, failure to obtain PCR test results before departure - traveler or member of his immediate family). The price of this insurance varies according to the total amount of your stay. If you add a service after validation of the file, the amount of insurance may change (excluding administrative fees and insurance - price per accommodation): from 25€.
For more information: https://www.goelia.com/guide/cancellation/
- Multi-risk insurance: This insurance covers our cancellation guarantee as well as snow cancellation (breakage or theft of personal ski equipment, loss or theft of ski pass, interruption of stay, interruption of snow activity), assistance and repatriation. The price of this insurance varies according to the total amount of your stay. If you add a service after validation of the file, the amount of insurance may change(excluding booking fees - price per accommodation): from 45€.
For more information : https://www.goelia.com/guide/comprehensive/

These insurances must be reserved at the time of booking and cannot be ordered subsequently.

- Our animal friends: Small pets are allowed on a lead for an additional charge per animal to be paid on site for €32 per week, €8 /day or 90 € for 3 weeks and longer (1 pet per unit). To be notified when booking. Rabies vaccination certificate compulsory. First and second category attack dogs (pit bull, guard or defence dogs) are banned in our complexes.

-End of stay cleaning : If the accommodation is not left in a perfect state of cleanliness, or if the holidaymaker prefers not to do it: €51 for accommodation for 2 to 5 people, €72 for accommodation for 6 to 7 people, €82 for a accommodation for 8 to 9 people and €99 for accommodation for 10 people (to be paid on site). In any case, the accommodation must be returned with the kitchenette clean (dishes washed and stored).

- Duvet cover, sheet and pillowcase hire possible: €11 /bed/change (to be paid on site)

-Beds made on arrival service: €22/bed (including sheets and pillowcases). Pre-book and pay on site.

- Bathroom linen (1 bath towel, 1 hand towel and a bath mat): €8.50 per person/kit/week (to be paid on site)
- Privatized access to the sauna: €8/20 min solo session - €12/20 min duo session / €5 per additional person with a maximum of 6 people
(access prohibited to minors unaccompanied by an adult and to children under 16)

- WiFi Access : Simply connect to our supplier's website and pay directly by bank card (visa or mastercard) on 1st connection. The prices are as follows: €6 per day / €12 3 days / €20 per week / €30 for 2 weeks / €30 family offer 1 week (3 devices) / €40 family offer 2 weeks. Goélia will let you know, when you arrive, the homepage of the website, but is not involved in the order, or in the connection.

- Maintenance Kit: (washing up liquid, dishwasher tablets, sanitary cleaner, sponge, bin bags): €6/kit (to be paid on site)

-Laundry: on site: €6 / load (to be paid on site, laundry detergent included); €4 per drying cycle

- From arrivals on 15/11/23- Baby equipment rental (bed, chair and or bath) left in the accommodation: €5 / stay. To be reserved at the same time as the accommodation and according to availability. Regarding the beds, in accordance with the recommendations of the manufacturers, we do not provide additional mattresses in order to guarantee the safety of your children (to be paid on site).
My Card summer 2023:
Given directly at the reception of our Goélia residences, this personal card gives access to many activities offered by the resort's service providers. To be reserved at the same time as your accommodation or at the latest 8 days before your arrival and valid only for 1 week.
7-day freedom offer: €33/week/person from 5 years old.
• 2 swimming pool entrances, at the reception of the Center Sportif des Longes.
• Unlimited minigolf, at the reception of the Longes sports centre.
• 1 day of unlimited chairlift over the 3 planned opening days. For the other 2 days, price at 6€ per climb on presentation of the My Card.
• Tennis court 1 hour, on reservation of the court at the reception of the Center Sportif des Longes.
• Archery 1 session. For 5-7 year olds, the archery session is replaced by a session of games of skill with supervision of the children by an animator.
• 1 entry to Le Fanny cinema
• 1 entry Balneo 1h.
• 1 toboggan run on rails.
• 1 entry for the Cime Parc purple course (tree climbing course)
• loan of equipment for the resort's sports equipment (basketball / football / beach volleyball, ping-pong rackets, badminton rackets, pétanque balls, mölkky)

In summer, Saint François is transformed into a charming, flowery resort between medium and high mountains, dynamic and innovative, with an outdoor swimming pool, archery, mini-golf, tennis, mountain biking circuit and numerous events and activities that meet the everyone's taste.

INFORMATION FOR YOUR STAY:

- Departure and arrival times:
Arrivals: Saturday between 15:00 and 19:00. The hour of the provision of the accomodation can vary depending on the preparation of this one. For any arrival except these schedules or another day, thanks to contact the residence.

Departures: Before 10.00

- Deposit: €250 per accommodation (to be paid on site).

- Tourist tax: approximately €1.65 per day and per person over 18 years old (to be paid on site). As it is a local tax, Goélia is not responsible for any modification.
Access to the residence
By train: TGV Paris to St Avre la Chambre daily bus connections to main train arrivals Tel: 04.79.59.48.47.To book the shuttles leaving from the Saint Francois Longchamp station: http://www.mobisavoie.fr/
By air: Chambéry / Aix les Bains and Geneva Cointrin and Lyon St Exupéry.
By road: Take A43 towards Saint Jean de Maurienne-Turin exit no. 26 La Chambre then CD 213 to Saint François Longchamp, Col de la Madeleine.
Pass the hamlets of Panet, Epalud, 1450, head towards 1650.
Follow the signs for Goélia Les 4 Vallées towards La Perelle and Cret Villot at the top of the resort.
Opinion
Prices and availability
Marketable from: 25/09/2023
Our services
Free services
Indoor pool

baby equipment (bed)

Baby high chair

Free parking

WiFi access at reception

Lift

Apartment accessible to disabled people

Television
Chargeable services
Pets

Sauna or hammam

Wifi access

End of stay cleanng

Laundromat
CONSUME LOCAL
Our local partners are committed to your holidays
QUALITY CHART
All our commitments to have a good holiday
SECURE PAYMENT
Pay securely at Goélia