Station residences
Holiday residence SAINT JEAN D'ARVES • Goélia Les Chalets des Marmottes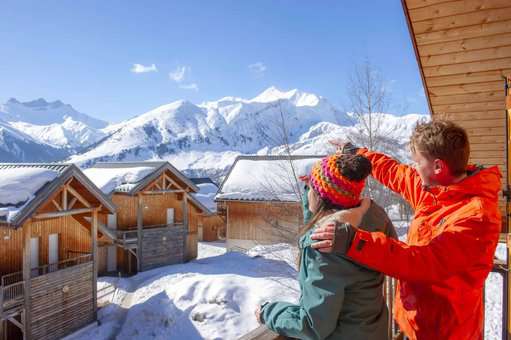 Northern Alps • St Jean d'Arves
Tourist residence Goélia "Les Chalets des Marmottes", classed as 3-star , is a group of chalets (divided into apartments on 3 levels) grouped at the foot of the slopes (a road to cross), 50 m from the centre, shops and ski lifts, ski lifts to Corbier and the Sybe[...]
Right next to the slopes
Sybelles® ski area (310 km)
Village resort
South-facing chalets with superb views
TV included
Holiday residence SAINT JEAN D'ARVES • Goelia Les Chalets des Ecourts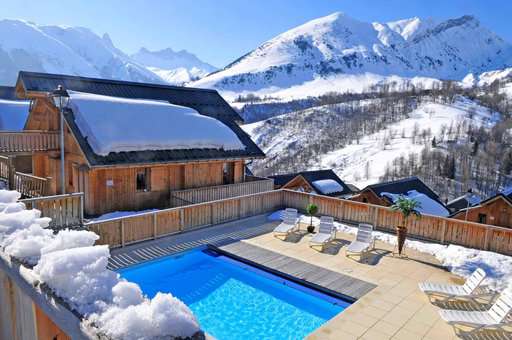 Northern Alps • St Jean d'Arves
 The Goélia "Les Chalets des Ecourts" tourist complex with heated outdoor pool is located in Saint Jean d'Arves. LES CHALETS DES ECOURTS COMPLEXThis complex, that is both authentic and modern, is made up of delightful small timber chalets divided into apartments [...]
Outdoor heated winter pool
Free access: sauna, Turkish bath, fitness room
Ski area of Les Sybelles® , (310km of slopes)
South facing chalets with a wonderful view
TV included
Useful information
Located between 1450 and 2600 metres high La Maurienne is the last wild valley of the Alps. Far from the "mountain towns", there is easy access (Motorway and TGV train up to St Jean de Maurienne) to the resorts of this Savoy valley, which remain, for the most part, villages located at the foot of the slopes.
St Jean d'Arves is part of the "Les Sybelles®" ski area, the 4th largest in France, with a grandiose 360° panorama opening onto the mountains and culminating 2600m high.
St Jean d'Arves is still a village, with its farms, but it is also a resort with all the shops and sports stores, restaurants, a French ski school, etc. You can choose from: a cinema, a club 3km away (with free shuttle), 8 restaurants, 7 bars/pubs/brasseries.

For the younger ones: ski kindergarten from 4 years old opposite the snow, 2 snowparks, snowmobile, snowshoes, etc.
For SKIING:
"Les Sybelles®" area: 310 kilometres of slopes over 6 inter-connected resorts including, in addition to St Jean d'Arves, Le Corbier, la Toussuire and St Sorlin d'Arves: 68 ski-lifts , 626 snow canons.
Make the most of the 136 slopes of this incredible area.
Domaine de St Jean d'Arves/Le Corbier only: 34 slopes.
By train: St Jean de Maurienne S.N.C.F. train station 18km away (Paris TGV in 4 hours).
By aeroplane: Chambéry Airport 120km away, Lyon St Exupéry 180Km away.
By road: Motorway to Chambéry then the A430 in the Albertville direction and the A43 in the Turin direction. St Jean de Maurienne (No. 27) exit. In St Jean de Maurienne, take the Corbier/Vallée de l'Arvan(D926) direction, then follow St Jean d'Arves, the "le Chal" hamlet.
-GPS COORDINATES:
Longitude: 6.264799 Latitude: 45.178287
CONSUME LOCAL
Our local partners are committed to your holidays
QUALITY CHART
All our commitments to have a good holiday
SECURE PAYMENT
Pay securely at Goélia