Station residences
Holiday residence SAINT GILLES CROIX DE VIE • Goélia La Grande Plage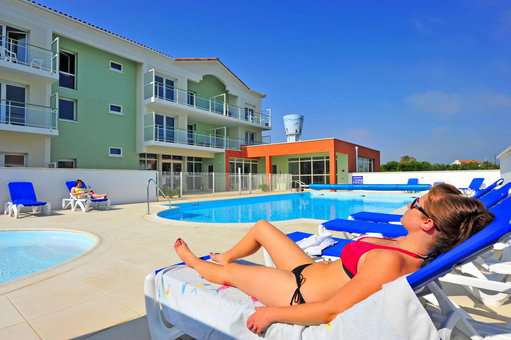 Vendée-Charente Maritime • St Gilles Croix de Vie
The 3* Goélia "La Grande plage" tourist complex with outdoor pool, is made up of semi-detached houses and apartments based directly in Saint-Gilles Croix de Vie. LA RESIDENCE LA GRANDE PLAGE:Our complex is located just400m from the "grande plage" which stretches ov[...]
Fishing port and marina
Resort very lively all year round
Twinned villas or apartments
400m from the beach (3.6km of fine sand)
Heated outdoor pool
TV included
Useful information
In the heart of Vendée, just 17km to the south of St Jean de Monts and 30km from Les Sables d'Olonne, the marine site of St Gilles Croix de Vie is a resort with a family atmosphere that is very lively all year round. The port which carries out a circuit inside Saint-Gilles-Croix-de-Vie itself, is the heart of this resort, historic headquarters of Beneteau sailing boats.

The estuary of St Gilles Croix de Vie and its marina with its 1000 spaces in the heart of the town, the shops andrestaurants along the docks and the old quarters, a fishing port, that is still active with a fleet of 66 trawlers, its numerous markets, the auction house, dunes and fine sandy beaches, traditions and events, make this seaside resort an ideal holiday location.

The beaches of Boisvinet and La Pelle in Porteau reveal rocks at low tide and invite fans of gathering seafood by hand (winkles, limpets, small crabs and prawns).
In the season, to the south of the large "la passerelle" beach, you are free to practise surfing, longboarding and kite-surfing , as well as sand yachting. In Aiguillon sur Vie, the 18 hole golf course awaits you for a swing on the green.

The country of St Gilles Croix de Vie offers holidaymakers a great diversity of natural environments: estuary, dunes, marshland, forests and wooded countryside, to be discovered on walks, by car or bicycle. The micro-climate and the light favour Mediterranean vegetation, and the sun is nearly always out there in summer.

One hour away by boat, the île d'Yeu will seduce you due to its wild coast, its cliffs and its wonderful cirques, as well as its long sandy beaches.

To be discovered in St Gilles Croix de Vie and the surrounding area: Les Marais salants de la Vie, La Bourrine du Bois Juquaud museum (home of the Maraîchins) in St Hilaire de Riez, the Moulin des Gourmands in St Révérend, Vendée Miniature (a lively village of 650 people) in Brétignolles sur mer, Atlantic Toboggan (water park), the vélo-rail in the station of Commequiers, a 10km walk on an ancient rail track, the Parc des Dunes with its 40 attractions for kids and grown-ups, the Puy du Fou near to Les Herbiers.

The highlights in the region :
- In April: the Protest Vendée Pro (French Cup and Surfing World Championships in Brétignolles).
- in May: Les Médiévales de Brem sur Mer festival, the 7ème Vague music festival.
- In June: the yachting festival in the towns of St Hilaire, St Gilles and Brétignolles, the Country heritage day.
- In July: la fête du Moulin music festival in St Révérend, the Mer et Vie music festival.
- In August: les Médiévales de Commequiers, Foire aux pinceaux (painting exhibition/competition) in Aiguillon sur Vie.
By train: St Gilles Croix de Vie Station.
By road: A6 Lyon, then A10 Nantes/Bordeaux direction, Aizenay, Coex, St Gilles Croix de Vie.
By aeroplane: : Airport of La Roche sur Yon les Ajoncs 50km away.
CONSUME LOCAL
Our local partners are committed to your holidays
QUALITY CHART
All our commitments to have a good holiday
SECURE PAYMENT
Pay securely at Goélia