Station residences
Holiday residence St GEORGES D'OLERON • Goélia La Palmeraie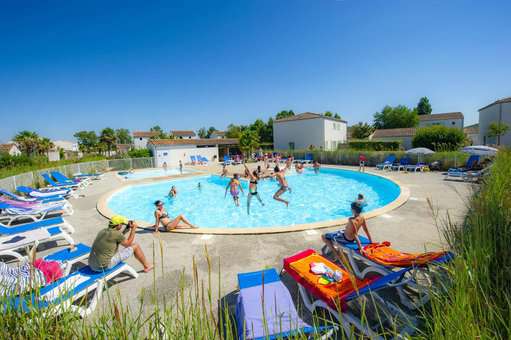 Vendée-Charente Maritime • St Georges d'Oleron
La Palmeraie Goélia holiday complex with an outdoor pool is located in the heart of the village of Saint Georges d'Oleron.LA PALMERAIE COMPLEX: The complex is located 100 m from the shops, and 3 km from the Port de Douhet and the beaches of Plaisance and Gautrell[...]
Spacious villas with private garage
Loan of 2 hybrid bikes per villa
Heated pool and children's pool
Shops nearby
Horseback riding 6 km away
TV included
Useful information
St Georges d'Oléron, the largest of the towns on the island (4600 hectares) has two coastlines, in the East and in the West, surrounded by 15km of fine sand. The most renowned are Plaisance, Gautrelle, and Sables Vignier. Two marinas (Le Douhet and Boyardville), and a village (St Georges-Cheray), built around a Roman church from the 11th century and the indoor markets of the 19th century, make up the heart of the resort.
To be discovered on the island of Oléron: the spa centre in St Trojan, a traditional fishing port in Cotinière with its auction house, public 9 hole and 6 hole beginner golf course in St pierre d'Oleron and the animal and bird park in Saint Pierre. Also enjoy numerous sea trips, with guided excursions (sailing boats, catamarans, motor boats, old sailing ships, trips to Fort Boyard, La Rochelle, the île d'Aix), and oyster-farm and Pineau cellar visits.
Horse riding centre 6 kilometres from the La Palmeraie complex and casino in St Trojan les Bains!
The casino welcomes you every day from 11:00 to 02:00 in the morning from Sunday to Thursday and until 3am on Fridays and Saturdays.
In the town, within a radius of a few kilometres, you can practice the following sports and leisure activities: jet-skiing and water skiing, scuba diving, horse riding centres, sailing and windsurfing schools, and sea kayaks, microlight, tennis club of Cheray, mini golf and bicycle and scooter rental.

The "Littoral express" shuttle ensures the Boyardville-La Rochelle connection several times per day from April to November.
By aeroplane: La Rochelle airport, Saintes station then car rental (Europcar advised as branch in île d'Oléron). Or Rochefort station, then coach to St Georges d'Oléron.
By road: A6 Lyon, then A10 Nantes/Bordeaux direction, exit 33 (Rochefort/La Rochelle) to Rochefort. Marennes Direction, then take the free Viaduct of Oléron letting you reach the île d'Oleron, then the Dolus d'Oléron direction and finally St Pierre d'Oleron. In St Pierre d'Oleron, turn right at the 2nd set of traffic lights after the Mr Bricolage store, in the Sauzelle-Boyardville direction (D274). In the village of St Georges d'Oléron, take the direction of the beach and port of Douhet. The complex is located on the street of the beach. Tourist office in St Georges d'Oleron: tel.: 05-46-76-63-75 - Fax: 05-46-76-86-49
GPS COORDINATES:
longitude: -1.313144 Latitude: 45.974720
CONSUME LOCAL
Our local partners are committed to your holidays
QUALITY CHART
All our commitments to have a good holiday
SECURE PAYMENT
Pay securely at Goélia