Station residences
Holiday residence MONTPELLIER • Goélia Sun City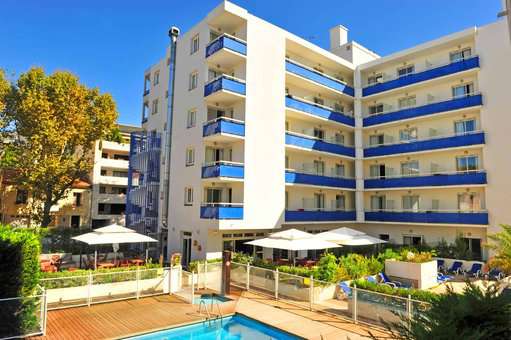 Occitania • Montpellier
3-star tourist residence Goélia Sun City with outdoor pool, is located in Montpellier, a few minutes' walk from the historic centre of the city. RESIDENCE SUN CITY: The residence is perfectly located in Montpellier, near the modern Antigone district to the south o[...]
Swimming pool and solarium
Very close to the centre of Montpellier
15 min from the beaches of Carnon and Palavas
Useful information
A thousand year old and modern city, created in the 10th century, rich in history, museums and monuments, Montpellier is regularly cited among the 5 most pleasant French cities to live in as well as among the most beautiful.
The Goélia Sun City tourist complex is ideally located a stone's throw from the Antigone neighbourhood. Montpellier the Southern capital of Languedoc Roussillon, is enlivened by its numerous squares and small courtyards through which it is a pleasure to walk . In Old Montpellier, discover the Place Royale du Peyrou, the bucolic square of La Canourgue and that of La Comédie, the vast heart of the city decorated with its Fountain of the Three Graces.
A stone's throw from the Mediterranean, it was not by chance that it is the French city experiencing the greatest increase in the number of residents.
The tram which serves all the city has a stop 5 mins. on foot from the complex. The beaches of Carnon and Palavas-les-Flots (10 / 15km) are easily accessible, just 15 mins. away by car, like the lakes filled with pink flamingoes and egrets.
Aigues Mortes and its ramparts, Les Saintes Maries de la Mer pave the way to La Petite Camargue less than 30km away.
Stays for a month possible, to be arranged directly with the complex.
By road
: A9 Montpellier Est Motorway (No.29) exit. Take the Montpellier direction. You enter Montpellier by crossing the Lez over the Chauliac bridge, Antigone direction; take a left after the bridge in the Piscine Olympique direction , and continue straight on until Avenue du Pont Juvénal then take a right; you will reach Faulquier square; cross the square towards Avenue du Pont Juvénal (hairdresser on the corner) and you will find the Complex No. 70/72 Avenue Pont Juvénal (large white and blue building).
GPS COORDINATES : longitude: 3.893854 Latitude: 43.603439
By train
: Montpellier station then Tram Line 1 in the Odysséum direction (blue tram). Get off at the 'Place de l'Europe' stop. Take Rue Poséidon (Swimming pool in the back right). Then head up Avenue du pont Juvénal up to the complex.
By aeroplane:
Montpellier Airport then connections by shuttle from the airport to Antigone, Place de l'Europe. Take Rue Poséidon (Swimming pool in the back right). Then head up Avenue du pont Juvénal up to the complex.
Tourist office: 04-67-60-60-60


Reception: Goélia Sun City
70/72 av. du Pont Juvenal, 34 000 MONTPELLIER
Tel.: 04 67 13 58 58, Fax : 04 67 13 58 59, Emergency: 06 75 25 40 27

ARRIVALS/DEPARTURES:
Arrival in the afternoon from 16:00 to 19:00, departure in the morning between 08:00 and 10:00.
CONSUME LOCAL
Our local partners are committed to your holidays
QUALITY CHART
All our commitments to have a good holiday
SECURE PAYMENT
Pay securely at Goélia