Between Aubrac and Cantal, stay in Entraygues-Sur-Truyères, in the heart of Aveyron.
Between nature walks, canoeing (nature base a few meters from the Goélia residence), mountain biking and heritage, this quiet village overlooking the Lot will be a wonderful starting point to discover the region.
Station residences
Holiday residence ENTRAYGUES • Résidence Les Gorges de la Truyère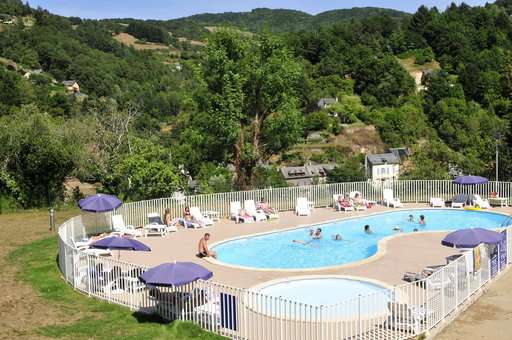 Southwest • Entraygues
In Aveyron, between Aubrac and Cantal, the residence Goélia Les Gorges de la Truyère 3* with indoor swimming pool and heated outdoor swimming pool is located overlooking the Lot, in a quiet area, 10 minutes on foot (by footbridge) from the center of Entraygues.A su[...]
Indoor and outdoor heating swimming pools
Wellness area
Television included
Useful information
Your holidays in Entraygues-sur-Truyères, between Cantal and Aubrac, in the heart of Aveyron.
Entraygues-sur-Truyères is located in Aveyron, between Aubrac and Cantal. Located at the confluence of two rivers, the Lot and the Truyère, not far from Laguiole, the village of Entraygues emerges in the middle of rocky ridges overlooking deep gorges. Venice Aveyron, Entraygues is a medieval town. You will discover its diversity of heritage through the villages with gray lauze roofs that have kept a true authenticity: the Fel and its church of Roussy, Espeyrac and Golinhac on the way to Santiago de Compostela, Pons with its sundial and market gardeners... the beautiful site of Bez-Beden and many others...
Between its history, which dates back to the Middle Ages, and its outdoor activities, you will be able to discover hiking, fishing or cycling.
In Entraygues and the surrounding areas, a range of activities awaits you: canoe-kayak-inflatable boats base, horse riding, cylcotourism, mountain biking, fishing, canyoning, acrobatic treetop with zipline, via ferrata, walking tours and fun tours for children: goats, Aubrac cows, Laguiole knives...
Numerous events such as concerts, street activities, themed tours, rallies and exhibitions are available in and around Entraygues.
At the end of May, discover the Transhumance Festival throughout the region, where local gastronomy and ancestral traditions are the watchword of this festive weekend.
Activities in Entraygues sur Truyère:
- Historical and religious heritage:
Entraygues-sur-Truyères was built in the Middle Ages and preserves some remarkable vestiges from this period, such as its Castle but also its Gothic bridge over the Truyère, the bridge Notre-Dame on the Lot, and even noble houses. To this historical heritage is added a significant religious heritage with the Chapel of Notre-Dame-du-Pontet (composed of a hermitage and a chapel respectively from the 11th and 17th centuries), the Chapel of Saint-Georges and the Church of Saint-Jean de Ginolhac.

- Hiking and cycling:
The area offers many paths suitable for all types of hiking. The GR 465A hiking trail passes in the immediate vicinity and allows you to reach the Cambeyrac dam.
Located 10 km from Entraygues, the village of Golinhac, a stop on the GR 65, will allow you to go to Castailhac and make a stop on the way to St Jacques de Compostelle. All in all, 350 km of marked tours are available to discover the natural heritage of the region. For cyclists, 12 routes are available from 8 to 30 km (with an indication of the difficulty level).

- Fishing:
Entraygues sur Truyères and the Lot Valley are renowned for offering numerous places to practice fishing. In the Lot but also in the Truyère you can fish various species of fish such as the deer, barbs, vandoises, trout, guinea pigs, ...

- A rich vernacular heritage, rooted in the history of Aubrac:
Transhumance and Feast of the Estive mark the month of May. This migration of livestock from the winter pastures to the summer pastures is the starting point for many festivities: Tasting of local gastronomy, parades, thematic tours and even concerts.
Events to remember at Entraygues-Sur-Truyère:
Entraygues-sur-Truyère offers many markets, including an organic market! They will allow you to taste the local gastronomy. Every Friday morning you will find the classic market. In July, August and until mid-September, every Wednesday from 6pm to 9pm, go to the country producers' market for 100% local produce.
Below you will find a selection of major events in and around Entraygues-Sur-Truyère:
- Transhumance Day, end of May: The Aveyron organizes this Transhumance festival over a weekend and allows you to follow this herd journey with many activities and activities.
- 3 Days of the Truyère Trial motorcycle, end of October: Attend this European motorcycle trial in Aubrac, Causses and the Lot Valley. Various activities are offered, including a free freestyle show! And many more to discover...
If you would like more information, do not hesitate to consult our "Good Plans" tab or visit the Tourist Office of Entraygues.
Leisure and shops in Entraygues-Sur-Truyères:
In Entraygues you will find all the shops and services, a cinema, many craftsmen, restaurants and farms inns, all year round, but also a dynamic tourist office that publishes numerous excursions programs.
By train:
Aurillac station 48 km or Rodez station 55 km
By plane: Rodez or Aurillac Airport
By road:
From Paris, via the West: take the A10 until Orléans, take the A20 until Tulle, N120 until Aurillac, then direction Rodez by Arpajon-Cère and Montsalvy.
From London via the East: take the A71 towards Clermont-Ferrand then the A75, exit at Massiac, N122 to Aurillac, direction Rodez via Montsalvy.
From Montpellier: take the A68 direction Millau, exit at Séverac le Château, RN88 until Laissac, follow Gabriac, Espalion, Entraygues.
From Toulouse: take the A68 towards Albi then at Rodez take the direction Espalion, Bozouls, Estaing, Entraygues.
GPS coordinates:
44,384,463 N
002 34.093 E
CONSUME LOCAL
Our local partners are committed to your holidays
QUALITY CHART
All our commitments to have a good holiday
SECURE PAYMENT
Pay securely at Goélia