Station residences
Holiday residence EAUZE • Goélia Les Maisons du Golf d'Armagnac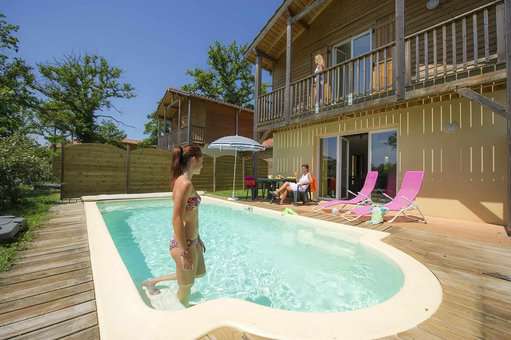 Southwest • Eauze d'Armagnac
The 3*** Goélia Les Maisons du Golf d'Armagnac holiday residence, located in Eauze d'Armagnac, with outdoor heated pool, enables you to stay in apartments or villas (with a private pool for some). "Les Maisons du Golf d'Armagnac" holiday residence has obtained the [...]
Directly on the golf course
Houses with individual private pool
Apartments with shared outdoor pool and children's pool
Outdoor heated pool
Touristic region with a great gastronomic tradition
"Clef Verte" international eco-label
Useful information
Eauze is an old site ofArmagnac located on the banks of the Gélise, a small picturesque river of Le Gers. The village is a pleasant stop between the Landes forests and the hills of Armagnac.

More specifically, the following are worth seeing: La place d'Armagnac, the heart of the village life, the terraces of the cafes, the covered arcades and half-timbered houses which are placed under the benevolent gaze of the cathedral, the Maison Jeanne d'Albret, the cloister, in the Saint-Taurin square (behind the cathedral) and the archaeological museum.

Numerous cellars will also allow you to appreciate the best vintages of Armagnac eau de vie and the traditional aperitif, Floc de Gascogne. The countryside is beautiful with its small hills often planted with vines, but also wheat or sunflowers.

Some châteaux, old farms, chapels and other abbeys catch the eye along a path and between two small valleys. At the start of August, there is the comic book festival . Several events are scheduled during the summer season: concerts, plays, markets and village festivals.
By train : Agen Station (1 hour 15 minutes by car), Auch (1 hour by car).
By road: From the A62 take exit 6 (Aiguillon) then follow (one after the other) Barbaste, Mézin, Montréal and finally Bretagne d'Armagnac. Turn right towards Higué. Continue to Le Coupé then Escoubet and finally "Golf de Guilnet".
The complex is on your right.
GPS coordinates: Latitude 43.898819 and Longitude 0.11364
By aeroplane: Agen Airport (1 hour away by car), Pau (1 hour 40 minutes by car)
CONSUME LOCAL
Our local partners are committed to your holidays
QUALITY CHART
All our commitments to have a good holiday
SECURE PAYMENT
Pay securely at Goélia