Station residences
Holiday residence LINGUIZZETTA BRAVONE • Résidence Goélia Perla d'Isula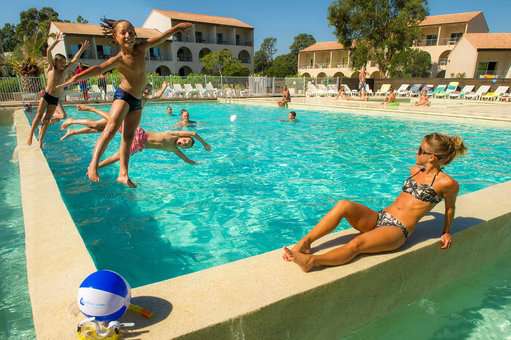 Corsica • Bravone
In Corsica, the Perla d'Isula" Les Marines de Bravone holiday complex, with pool, is located in the heart of the Costa Verde, an exceptional, natural, and very preserved site in the municipality of Linguizzetta. LA PERLA D'ISULA COMPLEX The complex offers an ideal [...]
200m² heated pool and children's pool
100m from the beach
Sea view for most units
Air-conditionned apartments (or not)
Arrivals every day
TV included
Useful information
Enjoying a sea view and direct access to the beach, the " Perla d'Isula" and "Perla Marina" complexes, located in the Marine de Bravone, an exceptional natural site that is very well preserved, in the town of Linguizzetta, are the ideal starting point to discover Corsica.

A few kilometres from Aléria, a famous Roman site, and the Musée Génois offering an exceptional view of the Corsican mountains and Eastern coastline.

A few minutes from the Lac de Diane famous for its tasty oysters, farmed in an unexpected setting. A stone's throw from Solenzara offering a typical view of South Corsica.
Staying in Corsica guarantees you a complete getaway. In unspoilt nature, and sites escaping uncontrolled town planning, free yourself from the usual constraints. Enjoy the beach via direct access or discover its exceptional sites:
BASTIA, its old port and its citadel, the tour of the Cap Corse, from Bastia to Saint-Florent and Nonza, BORGO, a small, typical Corsican middle mountain village, with its breathtaking view point of the bay of Bastia, ALERIA and its Roman site or its Musée Gênois, SOLENZARA and its incomparable view of the natural south of Corsica, BONIFACIO, impressive from its seabed to the heights of its cliffs: a wonderful impression in the far south of Corsica...
HAVING FUN: Make the most of an exceptional site with direct access to the beach, an infinity-edge pool, with its children's pool, unless you would prefer to enjoy the surrounding infrastructure by trying your hand at horse riding, offering yourself the benefits of a Spa day in the treatment centre of Riva Bella de Linguizetta, or even by crossing the numerous Corsican hiking trails or discovering Corsica via exploring its wonderful seabed.
ENJOYING THE FOOD: Discover the artisanal charcuterie based on pigs reared in the open air: prisuttu, coppa, figatellu, etc. but also olive oil, goat's and sheep's cheeses, the different honeys harvested in the maquis and even the chestnuts turned into flours with which they make excellent bread. Finally, what could be more pleasant than a fine table overflowing with seafood: sea urchins, lobsters, oysters and other rock fish, embellished with a wine from Corsican grape varieties: Nielluciu, Sciaccarellu or Vermentinu, the only one to consume in moderation.
By aeroplane : Bastia Airport (Borgo - Portetta) 1 hour 35 mins. from Paris By car: From BASTIA, take the N193 to CASAMOZZA or from the Airport of BORGO PORTETTA, take the PORTO VECCHIO / BONIFACIO direction via the N198, then take a left (after the bridge over the Bravone), finally take the D 617 in the direction of Marine de Bravone. Drive for approximately 1km, the complex is on your left.
By ferry: Port of Bastia, 5 hours by day from Nice, 10 hours by night from Marseille

Points of reference (approximate times) :
BASTIA 59km away (59 minutes)
BORGO 46km away (46 minutes)
AIRPORT of BORGO - PORETTA 45km away (42 minutes)
GHISONACCIA 27km away (22 minutes)
SOLENZARA 46km away (41 minutes)
PORTO VECCHIO 84km away (1 hour 23 minutes)
BONIFACIO 111km away (1 hour 44 minutes)
ALERIA 13km away (11 minutes)
CALVI 127km away (2 hours 3 minutes)
ILE ROUSSE 104km away (1 hour 35 minutes)
CORTE 58km away (53 minutes)
GPS COORDINATES :
longitude: 9.438687 Latitude: 42.264581
CONSUME LOCAL
Our local partners are committed to your holidays
QUALITY CHART
All our commitments to have a good holiday
SECURE PAYMENT
Pay securely at Goélia