Station residences
Holiday residence AUSSOIS • Goélia Les Flocons d'Argent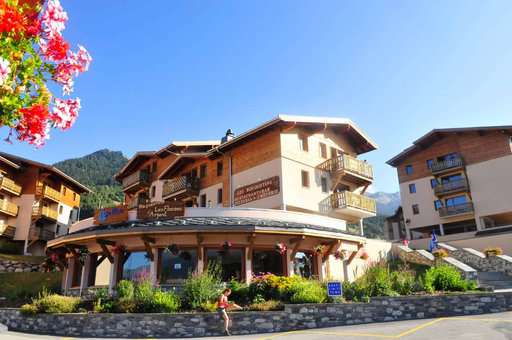 Northern Alps • Aussois
The 3* Goélia Les Flocons d'Argent holiday residence, located in Aussois, is at the foot of the slopes. You will find shops inside the complex (supermarket, restaurant, grocery / bakery, ski school …).GOELIA LES FLOCONS D'ARGENT HOLIDAY RESIDENCEThe residence is m[...]
Indoor heated pool
On the edge of the Parc de la Vanoise
Free indoor car park
A real village resort
TV included
Useful information
In addition to the character of an unspoilt village, Aussois offers the advantage of significant sun and a wonderful view. In this charming resort you will find all the shops and services, numerous bars and restaurants and a regional produce market.

Overlooked by the Dent Parrachée, one of the highest summits of Vanoise, Aussois is located on a vast sunny plateau offering a wonderful view of the surrounding massifs and direct access to the Vanoise National Park. Aussois is a real Savoy village, lively all year round.

Sports and Leisure activities: in Aussois and throughout the canton of Modane, the mountain biking site of Esseillon brings together 200km of varied , signposted and maintained routes. A ski-lift is accessible in July-August to the mountain bikers.
Hikes : In the heart of the Vanoise National Park, there are numerous hikes of all levels: from walking with pushchairs or young children to trekking for several days with a night in a shelter, starting from Aussois, discover numerous summits at over 3000 metres high. Every Sunday in July-August, a guide (guide office) invites you on a free welcome hike, that is easy and open to all, on the discovery trail of the Plateau d'Aussois.

Climbing: numerous cliffs are within a radius of 10km around Aussois with over 550 routes. Moreover, an artificial climbing structure of 64 m² has been developed on the ground floor of the Aussois Festival Hall.

Via ferrata: the via ferrata allows novices to experience the thrills of experienced mountaineers and to practice this activity easily with competent supervision. The Via ferrata du Diable combines 7 independent sections. It is the longest in France, the length of the course varies from 2 to 8 hours.

Canyoning: sliding on sleds, jumps in the turquoise water basins and rappelling down waterfalls.

But also: paragliding, asinerie (accompanied rides and hiring of pack donkeys - http://www.aneetrando.com our partner welcomes you so you can discover the region on donkey back), fishing (trout await you in the two water reservoirs of Plan d'Aval and Plan d'Amont or in the river of the Arc and the streams of Fond d'Aussois and Saint Benoît) archery , tennis, mini golf, etc. Detachable 4-seater chairlift , operates in July and August for pedestrians and mountain bikers.
By road: With the Alpine motorways A43 or A41 from Geneva, Lyon, Valence, exit no.30 Modane-Haute Maurienne Vanoise then take the N6 to Modane. Aussois is 7km (D215) away. Aussois is 107km from Chambéry, 145km from Grenoble, 200 km from Lyon and 110km from Turin.
By train: Aussois is 7km from the station of Modane. Via connection TGV Aussois is 4 hours from Paris. All year, fast trains and international expresses like Paris-Rome and Lyon-Milan stop in Modane.
By aeroplane: Aussois is at least 2 hours by road from the airports of Lyon, Geneva, Chambéry, Annecy and Turin.
GPS COORDINATES:
Longitude: 6.782147 Latitude: 45 267696
CONSUME LOCAL
Our local partners are committed to your holidays
QUALITY CHART
All our commitments to have a good holiday
SECURE PAYMENT
Pay securely at Goélia