Station residences
Holiday residence Vaujany • Résidence Goélia Le Crystal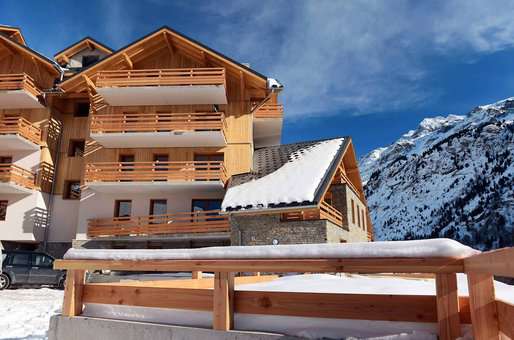 Northern Alps • Vaujany
The Goélia Le Crystal tourist residence is located in Vaujany in Isère, near the Alpe d'Huez ski area.THE GOELIA LE CRYSTAL RESIDENCE IN VAUJANY:The 3* Goelia Le Crystal Tourist Residence is located in the heart of the village of Vaujany en Isère, about 400 m from [...]
The Vaujany and Alpe d'Huez ski areas
Spectacular leisure facilities
The village spirit
Useful information
At an altitude of 1250 m, the Vaujany ski resort is located in the heart of Oisans, faces the Massif des Grandes Rousses and the exceptional panoramas of the Oz en Oisans, Vaujany and the Alpe d'Huez ski areas.
From Vaujany, a family resort with absolutely incredible leisure facilities, you will take a cable car to access the two ski areas overlooking the village.
Vaujany is one of the four resorts connected to the Alpe d'Huez estate, a superb playground with 250 km of slopes with a slope of more than 2200 m.
Among these descents, the Sarenne trail, the longest in the world, offers a slope of more than 16 km. A night ski slope is also open twice a week.
All to your boards on the 21 hectares of the domain entirely dedicated to riders of all levels. 2 Snowparks, expert, intermediate and beginner, offer them a series of various modules for extreme and spectacular gliding. 9 big air (blue, red or black), 1 half pipe, 10 slide bars, tables and rails. For beginners, Snow Park beginner (green and blue levels) has a series of boxes, rails and table, and a series of small bumps.
Vaujany, a family resort ideal for families:
In the heart of Oisans and Isère, with family or friends, Vaujany offers a traditional architecture of chalet-residences, with superb leisure facilities (aquatic area, skating rink, bowling etc... up to a media library that will make your children dream, in a preserved environment, on the edge of the Ecrins Natural Park, facing the Fare Waterfall.)
Vaujany has been awarded the Family Plus Label since 2009.
Its facilities and services make it the ideal resort for families: indoor skating rink (skating rink, hockey and curling competitions, shows; 700-seat stands), magnificent indoor swimming pool heated to 28° (with large fun slide, 4 swimming lines of 25 meters, paddling pool and water mushroom for the little ones), spa with relaxation area (sauna, hammam and whirlpool bath, aquabike, aquagym), bowling, fitness room, cinema, children's center (from 6 months to 16 years old), museums (immersive discovery area), multimedia library safe playgrounds, special family entertainment, free municipal indoor parking, and numerous shops and restaurants. Inside the resort, pedestrian traffic is facilitated by the escalators and a vast elevator connecting the high and low parts of the resort.
In Winter: Enjoy many facilities: ski slopes, hikes and snowshoe rides, snowshoeing, baby sledding park (initiation driving of dog sleds for 3-7 years old, baptisms dog sleds, snowpark, 2 toboggan slopes for young and old, one at the Pole Sports Loisirs and the other on the ski area (access by cable car), daycare (from 6 months to 4 years old and children's club (from 3 to 11 years in winter) at the Pole Enfance.
The exceptional Alpe d'Huez ski area
An exceptional ski area, up to 3,300 meters (Le Pic Blanc)
133 slopes over 250 km: 43 green, 34 blue, 40 red and 16 black slopes, including those of the Oz-Vaujany ski area.
2 Snowparks (Discovery - Intermediate - Expert)
The family-run ski resort of Oz-Vaujany
An accessible domain for all skiers, beginners and medium, up to 2800 m of altitude (the Dôme des Rousses) with the possibility of day extensions to the Domaine de l'Alpe d'Huez.
30 tracks over 53 km: 7 green, 11 blue, 9 red and 3 black
Possibility of cross-country skiing, 1 loop of 20 km (the Circuit des Lacs) or 10 km (the Poutran loop) from the Alpette (1st stop of the cable car).
CONSUME LOCAL
Our local partners are committed to your holidays
QUALITY CHART
All our commitments to have a good holiday
SECURE PAYMENT
Pay securely at Goélia