Station residences
Holiday residence SOULAC SUR MER • Résidence Goélia Le Cordouan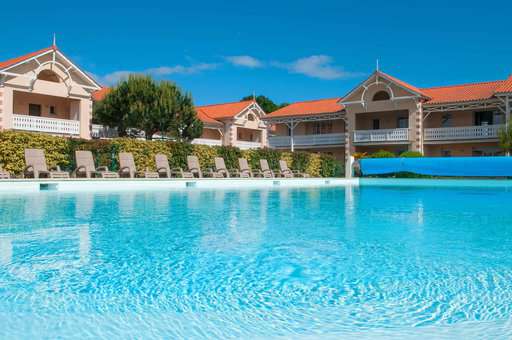 Aquitaine-Basque Country • Soulac sur Mer
The 3* Goélia "Le Cordouan" complex is made up of apartments, divided among small buildings on a single floor and private villas and is all built in a traditional Soulac-sur-Mer architectural décor (alternating façades of beams, white stone and brick). The surroun[...]
Heated pool
Tennis court
TV included
Apartments and houses
Useful information
Nestled between the Atlantic coast and the estuary of the Gironde, on the tip of the Médoc North of the Gironde, Soulac-sur-Mer has some kilometres of ocean beaches, of immense forest scented by pine trees shading many cycling tracks and one ideal starting point to discover prestigious vineyards.

To access Soulac-Sur-Mer from the North, it is strongly advised to borrow the tray of the Verdon to Royan to cross the Gironde estuary (20-minute crossing).

Soulac-sur-Mer is an elegant resort, with in its center near 500 villas in the style "Silver Coast" architecture, which is inspired by the architecture of the home, and a family resort with 7 km of sandy beaches. Three beaches are patrolled during the summer period (Amélie, Center, South Beach).

To do / to see:
-Visit the Cordouan lighthouse, the unique lighthouse in sea open to the public,
- discovery of the Atlantic wall with the guided tour of the Arros battery, the best preserved fortified positions made by the Germans
- walks on foot:
*the "Circuit des villas soulanaises"in town to discover the Basilica on the heritage of Unesco and the old village"la ville aux 500 villas", the dune trail, a walk of 30 to 45 minutes to discover the fauna and the dune flora,
-bike rides: Vélodyssée For enjoy Soulac-sur-Mer, nothing better than the bike: many circuits are available for hikes between ocean, forest, lakes and marshland, vineyards: a 7 km bicycle path connects the peak of Grave in Soulac-sur-Mer. It then continues along the coastline on over a hundred kilometres to the Bassin d'Arcachon. Another track connects the tip of the Negade Talais on the edge of the estuary of the Gironde.
-Ride in small train: to discover the region otherwise, take the little train that connects Soulac, the Verdon, the Pointe de Grave (7 km of tracks) and also allows to see the famous lighthouse of Cordouan in July and August.

Hobbies:
-On-site or nearby, many amusement parks for children, games, attractions, carousel, mini-golf...
- areas on the South Beach, indulge in happiness of the slide (surf, body, paddle, sail, yachting...). Try the towed buoys, jet - ski, flyboard, archery, yoga to beach, or horse riding (Equestrian Center). -To awaken your taste buds, go to the covered market, open year-round, where you will find many food shops.
-To entertain you in the evening, the Casino, on the seafront, with its table games, slots, cocktail-bar, restaurant, nightclub, or cinema, and many bars and restaurants. For children: in July and August, beach club Mickey for children 3 to 9 years and the beach club for children 10 years and older with many activities supervised by graduate coordinators.
CONSUME LOCAL
Our local partners are committed to your holidays
QUALITY CHART
All our commitments to have a good holiday
SECURE PAYMENT
Pay securely at Goélia