Discover Deauville, a Norman seaside resort considered one of the most prestigious cities in France. Indeed, its reputation is not to be missed with its casino, its seaside villas, its racecourses, its golf courses, its shops, its American Cinema Festival and its long sandy beach with its sunshades so characteristic... Regularly frequented by celebrities, a city oriented towards the art of living and very easy to access, Deauville is an ideal holiday destination, only 2 hours from Paris.
Station residences
Holiday residence DEAUVILLE • Goélia Le Castel Normand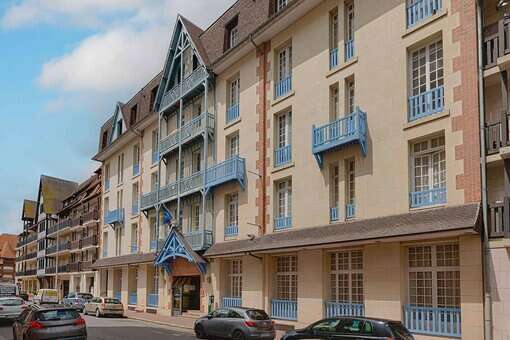 Normandy • Deauville
The holiday residence Goélia "Le Castel Normand" classified 3*** is ideally located in the heart of Deauville, close to its little sister Trouville-sur-Mer. It benefits from an exceptional location 300 metres from the beach and its famous « Planches », 200 metres f[...]
In the heart of Deauville
Beach and casino less than 300m away
Numerous activities nearby
TV included
Destination without car
Useful information
Your holidays in Deauville, a popular Normandy seaside resort on the " Côte Fleurie ", an ideal holiday destination.
Situated in Calvados, discover the famous Deauville, the star seaside resort of Normandy. Emblematic, daring and chic, this jewel of the « Côte Fleurie » never fails to fascinate tens of thousands of tourists from all over the world every year. It enjoys many assets to make you spend a weekend or a successful holiday between beach, relaxation, discoveries and leisure activities.
Deauville is first of all its large fine sand beach, 2 kilometres long. Very famous thanks to its idyllic setting, bordered by the famous « Planches » which extend over 640 metres and the Art Deco cabins. You will also find there the famous « Deauvillais parasols », coloured and tied in a unique way, symbolic of the city and having participated in its legend. This mythical beach will seduce couples by its romantic side, but also swimmers, sportsmen, riders... In fact, besides swimming and relaxation, you will be able to practise nautical activities such as sand yachting, stand-up paddle or kayaking thanks to the Nautical Centre. Horse-riding enthusiasts will also be able to enjoy beautiful horse-riding on the beach, as Deauville is intimately linked to the equestrian world.
A city that is at once relaxing, cultural and dynamic, Deauville is a major concentration of renowned and quality leisure areas. You can attend a horse race at the racecourses, visit the Pompeian baths, try your luck at the Casino Barrière, relax in the thalassotherapy, take a ride in a small tourist train, play on a green at the Golf Barrière, etc.
The resort is also renowned for the extravagance, diversity and creativity of its architecture. It is home to numerous seaside villas, most of which date from the beginning of the 20th century. If some of them are architectural masterpieces, they all contribute to the special atmosphere and charm of Deauville. Don't miss to visit them, for example the « Villa Strassburger », the most characteristic of the Belle Epoque villas classified as Historic Monument, or the villas « Le Cercle » and « Les Abeilles ». Other heritage and architectural jewels await you such as the Saint-Augustin church, the prestigious hotels and palaces, the Place Morny, etc.
In short, this resort that is nicknamed "Paris-sur-Mer" or the 21st district of Paris offers you a little corner of paradise on the « Côte Fleurie », close to charming villages such as Trouville-sur-Mer and Blonville-sur-Mer, sites to visit and beautiful walks and hikes, but also less than 30 minutes from Cabourg and Honfleur. You will have quick and easy access to this ideal place for vacationing with its beautiful beach, its many activities and discoveries as well as its prestigious cultural and sports events (such as the famous American Film Festival), all this less than 2 hours from Paris.


Activities in Deauville:
- " Les Planches de Deauville " and Art Deco Cabins :
Emblematic of the town, you can't visit Deauville without seeing « Les Planches », a 656-meter walk registered as Historic Monument. It runs alongside the Pompeian baths (worth a visit !) and the 450 Art Deco cabins that are an integral part of the town's identity, delimited by white barriers on which you can read the names of famous American actors/directors who came to Deauville for the American Film Festival.
- Water sports, Deauville beach and its beach umbrellas :
Take advantage of Deauville's large fine sandy beach, more than 2 km long and several hundred meters wide! You won't have any trouble putting your towel there, for example under a typical and unique « deauvillais parasol », which you can rent. Swimming and relaxation are offered to you, but also nautical activities such as sailing, sand yachting, stand up paddle or kayak.
- Deauville's heritage, architecture and villas :
Discover all the charm of the resort by strolling through the town centre with its shops, by visiting the Old-Deauville, which will offer you a breathtaking view of Deauville, by contemplating and visiting its daring seaside villas, some of which are architectural masterpieces... Don't miss the Place Morny with its fountain, the Place Yves-Saint-Laurent in the most luxurious district of Deauville, the Villas district, the superb Villa Strassburger, the Trouville-Deauville train station classified as a Historic Monument, the Saint-Augustin church, etc.
- The world of horses in Deauville, the racecourses :

The horse is undeniably part of Deauville's DNA. For horse riding enthusiasts as for others, it is the perfect opportunity to attend horse races, major equestrian sports competitions, horse sales or simply to practice horseback riding for example during a beautiful horse ride on the beach at sunset... The Deauville-La Touques racecourse is a place not to be missed both in summer and winter, with numerous races, animations, meetings with jockeys...
- Casino Barrière :
The Casino Barrière, dating from 1864, is worth a look as its setting is so prestigious! The most daring will be tempted by the frenzy of games (slot machines, English roulette, blackjack, poker, wheel of luck, etc.) while others will take advantage of its Italian-style theatre to attend a show or its restaurants, bars and karaoke club.

- The Deauville Golf Courses :

Golf enthusiasts will be delighted to swing on the many greens in the Deauville area ! You will be able to play golf in privileged settings offering breathtaking scenery, on courses designed by the greatest architects: at Golf Barrière Deauville, one of the most beautiful in France on Mont Canisy, but also at Golf Deauville Saint-Gatien, Golf Barrière Saint-Julien and the Amirauté Golf.
- Visit Trouville-sur-Mer :

Close to Deauville, don't miss the beautiful and authentic Trouville-sur-Mer... Little sister of Deauville, the two towns, very different, complement each other perfectly. Trouville is a friendly fishing village where you will have many things to see: the pier and its red lighthouse, its superb beach and its Savignac promenade, its fishing port, its casino, its seaside villas, its churches, its museum and beautiful viewpoints.
- Other discoveries on the « Côte Fleurie » :

The Pompeian Baths, the Calouste Gulbekian Park in Bénerville-sur-Mer (3 km away), the Thalassotherapy Centre, shopping in prestigious shops, the Black Rock Cliffs of Trouville-sur-Mer in Villerville, the Black Cow Cliffs of Villers-sur-Mer in Houlgate, the Marais of Blonville-sur-Mer (4 km away), the Paléospace of Villers-sur-Mer (7 km), etc.


Events in Deauville :

First of all, the markets are a must on the « Côte Fleurie ». You will fill your basket with local products and local specialities: cheeses, terrines, fish, seafood... Don't miss to stroll between the market stalls of Deauville, Villers-sur-Mer, Touques and Blonville-sur-Mer.
Here is a non-exhaustive list of the main events in and around Deauville :
- Art Shopping Deauville, in April :
International Exhibition of Contemporary Art, Art Shopping. Exhibition of a thousand paintings, sculptures, photographs, digital works...by French and international artists.
- Easter Festival, in April/May :
Chamber music festival where voice and strings, winds, brass, percussion and keyboards are in the spotlight. Concerts presented in a hall with close proximity to the artists and very high quality acoustics !
- French Flyair Festival, in July :
Air show performed by the elite of French aviation with the Patrouille de France, the French Air Force Aerobatic Team, the Patrouille Bleuciel, etc... Show of 1h15 composed of 3 tables : legendary aircraft, aerobatics and military.
- Festival Sable Show in Villers-sur-Mer, in July/August :
Free concerts in front of the sea, on the beach of Villers-sur-Mer, with a beautiful program ranging from French song to rock, through electro-swing. Concerts every Tuesday and Friday for the duration of the event.
- American Film Festival in Deauville, in September:
This festival, open to the general public, has been Deauville's must-see event since 1975. Presentation of a selection of numerous American films (from big productions to independent cinema), animations in the festival village. Many celebrities come to the Deauville International Centre for the occasion.
And many others to discover... For more information, see our « Bon Plans » tab or visit the Deauville Tourist Office. Because of its proximity to Trouville-sur-Mer, Cabourg and Honfleur, don't hesitate to ask about the major events in the area !
Leisure and shops in Deauville :

In Deauville, you'll have plenty to keep you entertained ! In addition to the many sporting and cultural activities and events, you will have access to a large number of leisure activities : the landscaped leisure park (with health trail, football, volleyball, basketball and petanque courts, fishing pontoons and rollerblading track), golf courses, casino, heated seawater swimming pool, bowling, horse riding, thalassotherapy and spa, escape game, hiking, mountain biking, mini-golf, water activities, fitness, skate-park, tennis, etc.
Of course, all the shops and services necessary for your stay are present on site, as well as many restaurants, bars and discos.
CONSUME LOCAL
Our local partners are committed to your holidays
QUALITY CHART
All our commitments to have a good holiday
SECURE PAYMENT
Pay securely at Goélia