Station residences
Holiday residence CARNON • Goélia Aguylène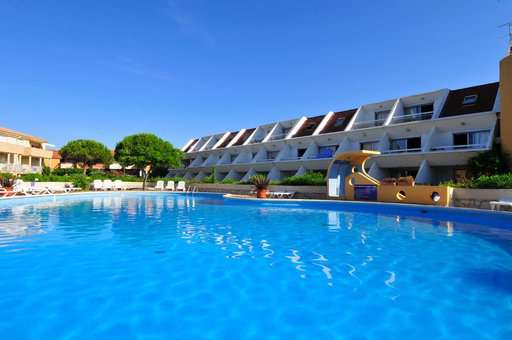 Occitania • Carnon
The  "Aguylène" Goélia holiday complex with a large pool, located in Carnon 100 m from the beach. THE AGUYLENE COMPLEX:The complex is ideally located on the pedestrian quay of the Marina but in a quiet area, facing the Marina on one side and the pool on the other[...]
On the Marina
Large Pool, beach 100m away
Shops 400m away
TV included
Useful information
Carnon is a seaside resort renowned for its vast fine sandy beaches, its fishing ports and marinas (850 berths), its monitored lakes and its bird reserves.

The shops of the Port and shopping centres are accessible by car (1.5km approx., Port bypass), on foot (700m via a footbridge) or by boat (2 min. crossing, free municipal shuttle in July-August). Carnon is located between the sea and lakes, 15 mins. from the centre of Montpellier via the road, along a 6km beach.

You will discover all the leisure activities of a major resort: sailing, wind-surfing, water skiing, jet skiing, beach clubs, volleyball, ocean trips, trips in Camargue. The coastline of Carnon offers scuba diving fans the richness of the rocky coasts towards the Cap d'Agde and Sète, wrecks, bands of limestone and volcanic rocks.

In the area surrounding Carnon, nature offers you views of even wilder and lusher landscapes: St Guilhem Le Désert and its medieval architecture on the edge of the Gorges of l'Hérault, Les Ganges and Gorges of La Vis, and the Vallée de l'Orb with its mountains and sunny plains which offer wonderful gorges and lakes. Les Gorges de l'Orb is the ideal playground to practice canoe- kayak.

By train: SNCF train station, upon leaving the station, head right and take the tram, "horloge" stop > "port marianne" the take the 106 bus and ask the driver to be dropped off in Carnon Centre or bus 128, "les cabanes de Pérols" stop.
By aeroplane: Montpellier Méditerranée airport 6 km away.
By road: A9 Motorway, Montpellier-Perpignan direction. Take exit no. 29 Montpellier Est / Carnon then follow Carnon Ouest. Then when you reach the top of Palavas-les-Flots (Boulevard St Maurice) take the first street on the left "rue de la falaque", Carnon ouest/Aire de Carénage direction, then "rue de la Gardiole", right at the end of the street on the right is the entrance of the complex.
GPS COORDINATES :
longitude: 3.979929 Latitude: 43.547392
CONSUME LOCAL
Our local partners are committed to your holidays
QUALITY CHART
All our commitments to have a good holiday
SECURE PAYMENT
Pay securely at Goélia