For your holidays in Normandy in Calvados, stay in the small village of Branville, in the Normandy countryside of the Pays d'Auge, just 2 hours from Paris and close to major tourist cities like Cabourg, Deauville and Honfleur.
Discover the Côte Fleurie and its beaches, numerous events, water activities, restaurants and its gentle lifestyle but also its history with the beaches and museums of D-Day located about sixty kilometres away.
Station residences
Holiday residence BRANVILLE • Résidence Goélia La Pommeraie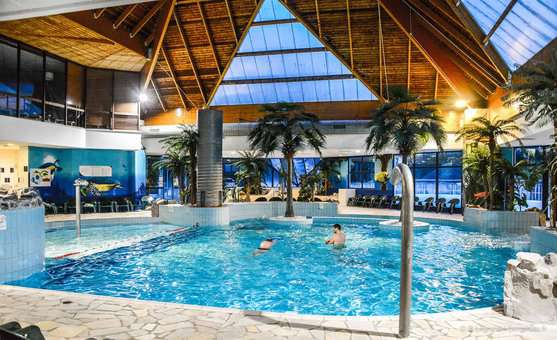 Normandy • Branville
The residence Goélia "LA POMMERAIE" with a large aquatic area composed of a covered pool, whirlpool baths, sauna, and two outdoor heated pools (depending on the season for the second one), is located in Branville, in the heart of the Pays d'Auge, in Calvados, 10 ki[...]
Outdoor and covered aquatic area, heated all year round.
Spacious Norman cottages.
Linen, towels and TV included.
Many sports facilities.
Ideal destination for a short or long stay.
Useful information
Your holiday in Branville, in the heart of the Auge region in Normandy
For a quiet stay in Normandy in Calvados, how about discovering the small charming village of Branville, located in the heart of the Pays d'Auge and the Côte Fleurie.
Branville is the ideal place to enjoy a peaceful stay in the quiet and wooded countryside in Lower Normandy, just 2h from Paris and close to the famous tourist sites of Normandy: Cabourg, Deauville, Trouville-sur-Mer, Blonville-sur-Mer, Villers-sur-Mer, Honfleur and Houlgate.
Do not miss the visit of Beuvron-en-Auge, 16 km away, very pretty Norman village classified among the Most Beautiful Villages of France and located on the Cidre road.
Nearby you can enjoy the beaches of Cabourg, Deauville and Blonville-sur-Mer for swimming, water sports or strolling along the seafront.
The village has typical architecture of the Pays d'Auge with its half-timbered and cottage houses, and benefits from the region's renowned gastronomy with its cheeses and famous calvados.
Some monuments are to be discovered such as the Saint-Germain Church, listed as a historical monument, and the Cross of Rollon, a Viking heritage.
Branville is renowned for training and breeding racehorses that perform at the famous Deauville racecourse about 8 miles away.
Activities in and around Branville:
- Riding and riding centre in Branville
Near the residence you will find an equestrian centre offering horse rides and lessons. Do not hesitate to ask.
- Educational farm for children and adults in Branville
Located directly in Branville, the educational farm of Roussel allows the whole family to discover the animals and understand the know-how of an authentic farm in Normandy. Guests can also enjoy local produce for sale directly on the farm.
- Discovery of Blonville-sur-Mer 10 km away
Only 6 miles away from Branville, discover Blonville-sur-Mer: beach, restaurants, club Mickey but also close to 110 hectares of marshes of great ecological wealth (in Blonville-Villers).
- Discovery of Cabourg 13 km
Between the Marcel Proust promenade, the Grand Casino or the racecourse and the Thalasso, Cabourg will offer you a great excursion destination. Its large beach will delight everyone, as well as its small shops and romantic atmosphere.
- Visit of the Côte Fleurie and its tourist destinations
Located in the heart of the Côte Fleurie, Branville is close to many other tourist destinations: go to Deauville and Trouville-sur-Mer or Honfleur (about 12 mi).
- The Cider Route
Just 15 km away, follow the Cidre du Pays d'Auge route and discover small villages classified Augerons (including Beuvron-en-Auge, one of the Most Beautiful Villages of France). Admire the variety of landscapes, the typical architecture of the buildings, the old-style markets and taste the local products: cider, calvados, jams, honey... You will also discover castles, studs and manors to visit on the road. This circuit guarantees a great bowl of authenticity and small happiness to discover!
- Caen Memorial and Landing Museum in Arromanches-les-Bains
47 mi away, visit the D-Day Museum in Arromanches: Conferences, exhibitions, guided tours ... Guests can also explore the nearby landing beaches. Also discover the Caen Memorial, Cité de l'Histoire pour la Paix in Normandy, 39 km away.
- Other activities near Branville
Many other visits await you in the surroundings of Branville: the capital of the Pays d'Auge Lisieux, 13 mi away, Le Havre, a UNESCO World Heritage Site, and the André Malraux Museum of Modern Art (MuMa), 15 mi away, the Pont de Normandie, 15 mi away, and the "Venise Normande" bridge, 18 mi away, etc.
Events to remember in Branville:
First of all, you can take advantage of the nearby markets to stroll between the stalls and find local products. There is one every day in the nearby resorts: Cabourg, Villers-sur-Mer, Blonville-sur-Mer, Trouville-sur-Mer, Houlgate, Deauville...
Find here some of the year's biggest events in and around Branville:
- Cabourg Film Festival, in June:
For 5 days, this festival dedicated to the romantic film offers previews, lectures, debates, screenings of romantic films in the open air (cinema on the beach) and in the hall.
- American Film Festival in Deauville, September:
Since 1975, the American Film Festival has hosted about 100 films during a fortnight rich in events around the cinema.
And many other events to discover... For more information, see our page of La Pommeraie in Branville.


Leisure and shopping in Branville:
Branville is a small resort located in a green setting, but you can find restaurants and leisure activities in the immediate vicinity of the village and especially many activities in our holiday residence Goélia La Pommeraie: aquatic area with heated outdoor and indoor pools, whirlpool baths, sauna, tennis, mini golf, petanque, badminton, football, hand, basketball, restaurant, bar, grocery store...
Book a nice holiday house in Branville for a great holiday with Goélia!
CONSUME LOCAL
Our local partners are committed to your holidays
QUALITY CHART
All our commitments to have a good holiday
SECURE PAYMENT
Pay securely at Goélia