Station residences
Holiday residence VALLOIRE • Goélia Les Chalets Valoria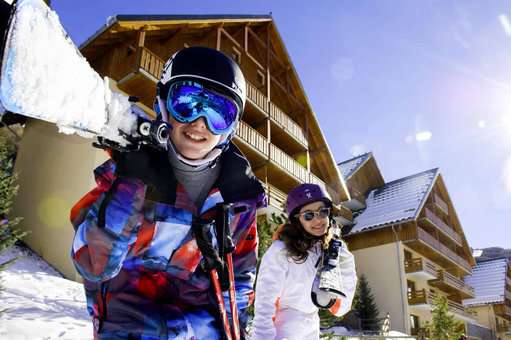 Northern Alps • Valloire
The 3*** Goélia Les Chalets Valoria tourist complex in Valloire is ideally situated along the slopes, at the entrance to the village, overlooking the old market town.LES CHALETS VALORIA COMPLEX:The complex is made up of 4 to 5 floor residences/chalets, with lifts f[...]
Ski out access
300m from the telecabin of La Brive and the shops
Wonderful view of the village
600m from the Resort Village (free shuttles)
TV included
Useful information
A village resort very easily accessible via the motorway of La Maurienne, at the foot of the legendary Col du Galibier, Valloire is an authentic stone and timber resort.

Valloire offers child care for children from 6 months to 6 years - "Les Aiglons" , 2 Piou-piou clubs from the ESF (Ourson kindergarten at the foot of the ski lift of La Brive, and " Les Pt'tis Loups" in the hamlet of les Verneys), as well as "La Souris Verte" from the ESI in the heart of the village (bookings advised).

Don't miss the international snow and ice sculpture competition over 3 days and 3 nights every year in January.

SPORTS AND LEISURE ACTIVITIES: the ski area stretches over 1430 to 2600m and includes 150km of slopes, 31 ski lifts , including two telecabins, 17 chair lifts and 12 ski tows.

70% of the area is located higher than 2000m.

The area of Galibier-Thabor ensures perfect snow cover with over 400 snow canons.

Also available for you: 4 slalom courses and 3 accredited competition slopes, freestyle areas (1 progressive snowpark, 1 cross-country area, 1 time-trial area, 1 DVA park, fun areas).

Time-trial area, a speed camera on the slopes to discover the speed that you are skiing at in a safe and freely accessible space (if you have a package).

Valloire also offers a 10km cross-country skiing route that is maintained and marked including 3 circuits (green, blue, red and black)

You will find all the shops and services in this resort which is full of charm (restaurants, a cinema, a nightclub, a bowling alley, a pub, games room, etc.), as well as an artificial discovery ice rink (with ice games, ice chairs for children, etc.), dog or llama sledging , horse-drawn carriage ride introductions every week for children and sledging every Wednesday.

A "Val'form" fitness area (from 16 years old) offers you a body building and cardio room, a relaxation area with a sauna and Jacuzzi and rest area).

Everything is available to non-skiers too: a fun and friendly area accessible via the telecabin of La Brive, activities open to all, snow cave, walking trails, safe sledging tracks , etc.By train : up to the Saint-Michel / Valloire station (17km)
T.G.V. : Paris-Chambéry + direct Chambery / St-Michel Valloire connection.
Lyon Part-Dieu / St Michel Valloire direct connection every day.

By aeroplane: Chambery Airport / Aix 100km away - 04 79 54 49 54
Connections via trains to St Jean de Maurienne

By road : A43 motorway to Saint-Michel de Maurienne, 17km from Valloire + D 902.
Col du Galibier open from the start of June to the end of October.
CONSUME LOCAL
Our local partners are committed to your holidays
QUALITY CHART
All our commitments to have a good holiday
SECURE PAYMENT
Pay securely at Goélia