Station residences
Holiday residence ST COLOMBAN - LES SYBELLES • Goélia Les Chalets de Belledonne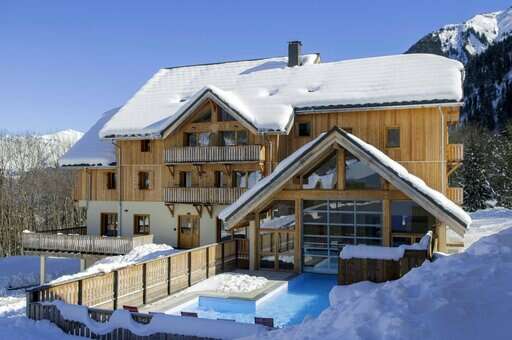 Northern Alps • St Colomban Les Sybelles
The Goélia 3* "Les Chalets de Belledonne" tourist complexis a collection of diverse buildings made up of lets and a main chalet with reception, covered/open air heated pool, brought together 150m from the slopes and ski lifts providing access to the Les Sybelles® A[...]
Indoor and outdoor heated pool and sauna.
Unspoilt village, ideal for skiing as a family.
150m from the slopes
Resort of Les Sybelles® Area (310km of slopes).
Spacious new and quality lets
TV included
Useful information
1100m - 2431m

45km of slopes in St Colomban, 310km with Les Sybelles®.
63 snow canons to ensure the St Colomban-Les Sybelles® connection.

Saint Colomban des Villards is the resort of Les Sybelles® (4th largest French ski area with 310km of slopes - La Toussuire, Le Corbier, Saint Jean d'Arves, Saint Sorlin d'Arves - ), the easiest to access from Lyon and Chambéry.

Saint Colomban, which is still an unspoilt village, on the Col du Glandon route, is just 15 minutes from the motorway exit and the TGV train station of La Chambre.
The 45km of the St Colomban slopes are completed by the 270km from the other resorts of Les Sybelles®.

In the resort, you can do alpine skiing, Nordic skiing, cross-country skiing and on hikes in snowshoes in the Belledonne massif, sledging, with a welcoming altitude restaurant also accessible to pedestrians (return journey in ski lift).

Beginners can toughen up in the small area of St Colomban with its 19 slopes (3 green, 9 blue, 5 red, 2 black), before embarking upon the whole of Les Sybelles® area.

Winter 2017 latest development: a cross-country ski area - "Les Villards Belledonne Sud".
The cross-country ski area includes:
- An educational area on snow, equipment and respecting nature.
- Very accessible routes for an initiation into the wider area around the ski area in order to get used to the equipment and be sure you can go back down via the ski slopes. This also allows a family to come and ski, each with their own activity, or continue with the day alpine skiing with a package at a reasonable price. These routes have hike guides and the trail is almost permanent, made by those practising.
- Equipment can be hired for your first outing (skis, safety kit, clothes).

2 signposted routes are on offer in Saint colomban:
- Rogemont (direct access): 1.5km route
- Mont Cuinat (Ormet and Charmettes ski lift - specific hiking deal for €12 without a guide and €6 with a guide): 5.8km route. By road:
From Lyon, take the Chambéry-Turin direction via the RN6 or the A43 motorway. The A43 motorway (E 70) is the last link in the alpine motorway network. It links France to Italy via the road tunnel of Fréjus. The opening of the 63km from the A43 guarantees a better service for the 24 resorts of the valley of La Maurienne.
The snow is getting closer.... For all, winter sports are at the end of the road!!!
N.B., the passes of Galibier, La Croix de Fer, Glandon, Iseran and Mont-Cenis are closed in winter.
Do not use the GPS

By train :
TGV 4 hours from Paris (stations of St Avre / La Chambre, St-Jean-de-Maurienne, St-Michel / Valloire and Modane).
Connections for the resorts via bus and taxis.
Information and passenger bookings on 08 36 35 35 35.
CONSUME LOCAL
Our local partners are committed to your holidays
QUALITY CHART
All our commitments to have a good holiday
SECURE PAYMENT
Pay securely at Goélia