Fouesnant, the first tourist resort in Finistere. A coastal town in the South-Finistere located 9 miles south of Quimper and 5 miles west of Concarneau, Fouesnant is bordered by 9 miles of coastline, from Cap Coz to the marshes of Mousterlin and the dunes of the White Sea, via the tip of Beg Meil.
Station residences
Holiday residence FOUESNANT • Résidence Goélia Le Domaine des Glenan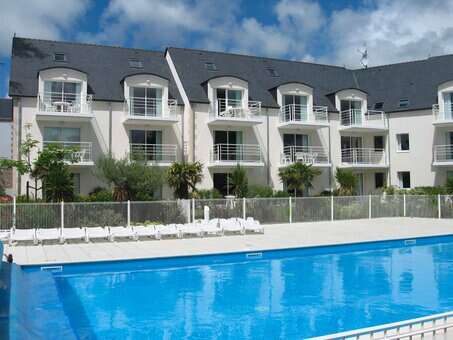 Brittany • Fouesnant
Seaside and tourist resort of the South Finistere with its beaches and coves of Beg Meil. Archipelago of Glénan at 1 hour by boat. Holiday home in Fouesnant - Beg Meil with heated outdoor swimmingpool. The beach is at 100m away, shops and the center are close.
330 feet from the beach
Heated outdoor pool and children's pool
Nearby shops
Useful information
Your holidays in Fouesnant, the first resort of the southern Finistere.
Fouesnant has become a real seaside and tourist resort developed thanks to its set of beaches and Beg Meil and has a vast island complex: offshore, an hour away by boat, the
Archipel des Glénan
, a group of islands located south of the Pointe de Mousterlin.
It is a true paradise for seabirds, lovers of diving, pleasure or simply nature. The site, including the sheep Isle, has been listed since 1973. The island is now an ornithological reserve where two species of terns nest: stern pierwatch and stern caugek.

Sport and leisure activities on and around the site:
balneotherapy, thalassotherapy, cinema, children's club, playground, horseback riding, 18-hole golf, petanque, "Les Balnéids" (Tropical atmosphere - water at 29°, massage jets, whirlpool baths, saunas, water cannons, water curtain, but also classes on request for aquafitness, swimming lessons for future mommy or even aquabike), skate park, boat rental, bike rental, swimming pool, scuba diving, tennis (3 place settings and 4 clay in Beg Meil), gastronomic visit (located in the green countryside of Fouesnant, the cider factory of Ménez Brug, offers you to taste its cider of "Designation of Controlled Origin" and also its apple, apple juice and Lambig.
From Beg-Meil
, it is easy to tour and visit Fouesnant and its main attractions, the tourist cities of Finistere such as the city of Concarneau (ramparts, fishing port), Quimper (old town and cathedral), Bénodet (seaside resort, thalasso, casino, departure of sea and river cruises), Combrit St Marine (charming little port) and further away the cities of Douarnenez, Brest... the Pointe de la Torche, Pen marc'h, Crozon peninsula, the Bay of Audierne, the Pointe du Raz...
Gastronomy: lobster and sole are all jewels that the chefs at Fouesnant know how to make the most of. They associate them with cider, apples and make the region a good place to eat. But Fouesnant is also its pancakes (krampouezh) and its famous pancakes (kaletez)...
Activities in and around Fouesnant:
- Discovery of the Glénan Archipelago: Located an hour's drive across the continent, the 22 islands and islets of Glénan are a true Breton paradise. Discover the entire archipelago by boat then dock at Ile Saint Nicolas, which you can walk to. Between bright white sand, incredible vegetation (narcisses in April that cover the dunes).

- The coves of Beg Meil and Pointe du Mousterlin: Between nature, stone and sea, the creeks of Beg Meil offer stretches of white sand and turquoise water. To get there, hiking or cycling, you can enjoy this heavenly landscape with a breathtaking view of the Glénan Archipelago. After the beach, Beg Meil will offer you a passage through its seaside resort and its many bars and restaurants. The Breton Riviera opens its doors.

- Hiking, GR: The GR 34 will take you on the way to the customs and will allow you to discover many unobstructed viewpoints, notably on the Bay of the Forest. There are also 70 km of bike paths and 100 km of hiking trails.

- Sports and especially water activities: The activities are numerous, even if they are mainly focused on sailing: sailing, kayaking, underwater discovery (a catamaran with underwater vision) but also boat or catamaran hire, paddle stand-up, kite-surfing, water-walking, windsurfing, sailing, surfing, all you have to do is choose.

Other activities are also available: Tennis, Golf (Blue Green de l'Odet), riding school, quad...
- Gastronomy: Brittany invites you to discover its greatest seafood specialties: lobster and sole are all jewels that the chefs at Fouesnant can make for. They associate them with cider, apples and make the region a good place to eat. But Fouesnant is also its crepes (krampouezh) and its famous galettes (kaletez), without forgetting the honey shop of Fouesnant (guided tours in summer).

- Oceanopolis: In Brest (about an hour's drive), go for the day to discover the diversity of the sea. 3 thematic pavilions will marvel young and old in front of nearly 1,000 animal species.

- Other activities near Fouesnant: Prehistoric Park in Malansac (1h45), addictive park branch, animal park of Pommeraie, karting, fishing city, amusement park Odet Leisure, maze, escape game, bowling, equestrian center...
Events to remember in Fouesnant:

First of all, make sure to take a tour of the markets that take place every Friday morning. The organic version takes place at the Church Square on Saturday mornings. Below is a non-exhaustive list of the year's top events in Fouesnant:

- Feast of Brittany, May: Between Fest-noz, traditional markets, concerts, animations, outings at sea, tasting, more than 230 events are held throughout Brittany for more than 10 days.

- Astropolis, in July: In Brest, as in more than 20 years, this festival dedicated to electro music has been held.

- The Old Charrues, in July: World famous festival in Carhaix-Plouger (1h15 from the Goélia residence). For more than 25 years this festival has been offering a program of new talents and sacred monsters. Behind-the-scenes tours are also organized throughout the weekend.

- Brest 2020, in July: A fleet of 1000 boats in the port of Brest to celebrate maritime festivals. It is up to you to discover races, maneuvers. You can go on a boat, discover the 5 scenic spaces but also gastronomy, traditions and marine songs. Postponed to 2020.

- Cornouaille Festival, in October: In Quimper (only 25 minutes by car), find this event dedicated to Breton culture. Between concerts, gastronomy and dances, celebrate with the Breton people (in traditional costume), the great traditions.
And many others to discover...

Do not hesitate to ask for information to enjoy the cultural and festive events of the surrounding cities (Quimper, Douarnenez, Bénodez, Concarneau) ...

For more information, please visit our Tickets or Appointments tab at the Tourist Office of Fouesnant.

Shops in Fouesnant:

Beg Meil offers a wide range of restaurants and shops. The Goélia residence is located in the immediate vicinity of the latter: phramacia, food shops but also honey, bakery and biscuits.

For the restaurants: Creperie, gastronomic restaurant, but also pizzerias, near the sea or downtown. All you have to do is choose.
CONSUME LOCAL
Our local partners are committed to your holidays
QUALITY CHART
All our commitments to have a good holiday
SECURE PAYMENT
Pay securely at Goélia