Ideally located in the heart of Normandy in Calvados, explore Cabourg, a charming seaside resort that has long been a place where the European bourgeoisie found itself. The city will appeal to all types of visitors, being at once calm and dynamic, traditional and modern, family friendly and romantic ... You will not be able to miss the beach of fine sand, its casino and its Grand Hotel where Marcel Proust once lived!
Station residences
Holiday residence CABOURG • Résidence Goélia Green Panorama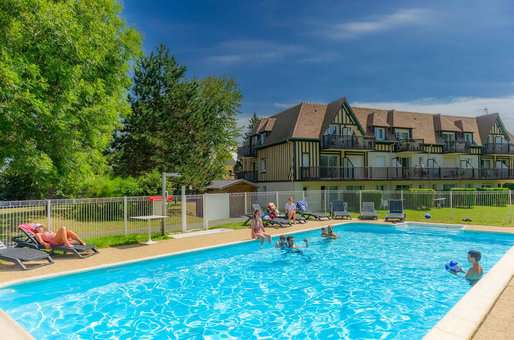 Outdoor heated pool
300m from the beach
On the Golf Le Home
Close to Cabourg
Useful information
Your holidays in Cabourg, the ideal romantic seaside resort!

At the edge of the Channel, between Caen and Deauville, discover Cabourg, this beautiful seaside resort shaped by centuries of history. You can admire an exceptional architectural heritage with beautiful villas and mansions, attend festivities all year and, of course, walk along the "beach of romantics" of 3.6 kilometers of fine sand that overlooks Cabourg. The city has been for a long time a meeting place of the upper middle class, it has inspired Marcel Proust for his famous novel series entitled "In Search of Lost Time" and its Grand Hotel has housed great characters such as Aznavour, Piaf and Bécaud.
You will go shopping and find many shops and restaurants in the lively "Avenue de la Mer" which is the heart of Cabourg.

The resort is labeled "Family Plus" and hosts beach clubs for children. On the beach, you have lots of choices! You will be able to rest or practice different sports and nautical activities: swimming, paddle, beach volley, horse ride, catamaran, kitesurfing ... In addition, the city offers a lively beach all year long.

In Cabourg, whether you are with family, friends or a couple, you will have multiple ways to spend magical holidays! Romantic people, sports enthusiasts, nature lovers or culture buffs, you will find your happiness in this multi-faceted area.


To do, to see :

- Promenade Marcel Proust: contemplate the Normandy coastline on the 3.6km dike in the famous promenade (the longest pedestrian promenade in Europe) that has inherited the name of the French writer. Enjoy this walk at sunset, a ritual not to be missed where the Normandy coast takes on its most beautiful colors.

- Grand Casino de Cabourg: with its panoramic brewery, concerts, shows etc. discover a key spot of the holiday resort!

- Hippodrome: live the trotting races otherwise! In summer, family events are organized as well as shows around the races, these are the "Estivales de l'Hippodrome": pony ride, ride, visit stables, photo booths, concerts ...

- Paragliding air baptism: fly over the beach of Cabourg and enjoy an exceptional panorama!

- Thalasso of Cabourg: outdoor seawater pool overlooking the beach, hydrojet relaxation, modeling under fine seawater rain, seaweed wrap, detox herbal teas at will... Give yourself a break of absolute relaxation!

- And many more: Belle Epoque Gardens, Estuary of the Dives, towed buoy, jet ski, golf...

Events to remember:

- Valentine's Day: celebrate Valentine's Day in the capital of love! Thousands of heart-shaped balloons will put you in the romantic mood, words of love on the love wall, wish tree, jet of coins in the pool of lovers, photo booth to immortalize the moment, animations ...

- Romantic Film Festival: to delight moviegoers, 80 sessions for a rich and varied selection of fifty movies! Discover new talents (great talents were rewarded in Cabourg before being nominated in other festivals such as Marion Cotillard, Audrey Tautou, Emmanuelle Bercot ...) and approach the personalities during the red carpet, the closing party or even in the streets and on the beach.

- Cabourg my Love: a must for music lovers, enjoy 3 days of festivities with a qualitative program in a festival, your feet in the water!

- Dinner on the dike, in August: share a meal with strolls, concerts, animations, on the walk Marcel Proust, at a table extended on 4 kilometers! Smiles, sharing and good mood guaranteed, in front of the sunset over the sea. Remember to register at the tourist office because this event attracts more and more guests each year!

And many more to discover ... Check out our Best deal tab and Cabourg tourist office.


Leisure and shops:

In addition to all water sports, sports and cultural events, the holiday resort offers lots of choices to enjoy your stay: theater, one-man-show, classical music, disco, ballet, cinema, massage and relaxation, walk fishing…

Finally, you will find plenty of restaurants, bars, cafes and pubs at all hours of the day and night for all tastes. Romantic places, trendy, sometimes even mythical ... Find yourself to share a good meal or have a drink!
CONSUME LOCAL
Our local partners are committed to your holidays
QUALITY CHART
All our commitments to have a good holiday
SECURE PAYMENT
Pay securely at Goélia