Station residences
Holiday residence Autrans en Vercors • Goélia Le Sornin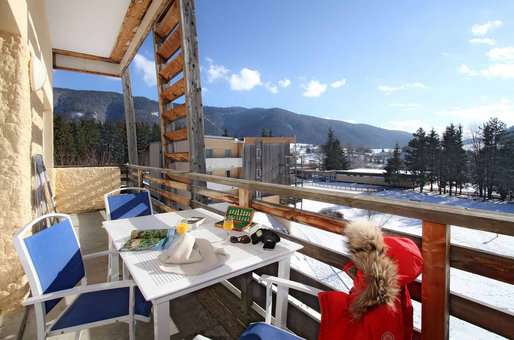 Northern Alps • Autrans en Vercors
The 3* Goélia Le Sornin holiday residence is located in Autrans en Vercors, in the heart of the Vercors Regional Natural Park, 40 km from Grenoble.GOELIA LE SORNIN HOLIDAY RESIDENCEThe 3* Goélia Le Sornin holiday residence, made up of 4 3-storey buildings housing a[...]
In the heart of Vercors Regional Natural Park
A dynamic village resort
One of the most beautiful Nordic skiing sites in France
Useful information
Your ski holiday in Autrans in Vercors, family resort with many activities.
Located in the Rhône-Alpes region, straddling the departments of Isère and Drôme and close to the large agglomerations of Valence and Grenoble (40 km), the Vercors massif is a paradise for outdoor activities, renowned for the beauty of its panoramas and its wild and preserved nature.
Autrans en Vercors is located in the heart of the Vercors Regional Nature Park. Autrans-Méaudre en Vercors is distinguished from large resorts by its family and friendly welcome and attracts families and beginners by its ski area with soft relief and its mountain architecture. Alpine and cross-country skiing are at the party here!
This dynamic resort located at 1050m altitude offers many activities for both families and sportsmen: snowshoes, toboggan, sled dogs, fat bike, snowkite, ski jumping, biathlon, ice cascade, mountain bike, VAE, caving, farm visits ... not forgetting the "Speed luge Vercors", a descent in luge on rail from the summit of the Claret: 135 meters of slope, up to 40 km/h, a guaranteed sensation!
All shops, restaurants, cinema and library are waiting for you!
For children: The resort is particularly suitable for children. You will find many activities and activities dedicated to children (workshops for children aged 5-12 years during school holidays, program of activities dedicated to the youngest children, drop-in center Les Bout'choux for children aged 3 months to 3 years located in "La Truite" 2.5km from the village). Information from the tourist office.
Autrans Méaudre ski area in Vercors
For alpine skiing: The Autrans-Méaudre ski area in Vercors is located between 1050 m and 1710 m within the Parc Naturel Régional du Vercors and offers 35 slopes (20 km) on 2 separate areas accessible with the same package (Autrans - La Sure et Méaudre - Village). A free shuttle for those with packages (about 11 minutes) connects the 2 sites.
There are kindergartens and easy slopes for children to enjoy skiing safely. A wide range of red and black slopes also allow good skiers to indulge themselves.
· 16 slopes and 7 lifts on the Alpine domain of Autrans
· 17 slopes and 9 lifts on the Alpine domain of Méaudre
· Beginner spaces and fun trails (the "Marmottons", the "Little Wolves" ...)
· Boardercross (1 to Autrans, 2 to Méaudre)
· Zipline Vercors Méaudre (Giant zipline on the Nordic Space of Autrans - Méaudre en Vercors).

For cross-country skiing and biathlon: L'Espace nordique d'Autrans en Vercors, one of the most beautiful northern French sites is labeled "Nordic France", and renowned for the quality of its facilities and the damage to its slopes. It offers 180 km of slopes prepared and traced in classic and skating for cross-country skiing, Nordic hiking, dog sledding or Nordic snow walking.
- the David Moretti biathlon stadium at the altitude site of Geneva with 30 targets covered at 50m.
- ludiparks: northern workshops on which adults and children can discover the pleasures of nordic gliding and work their balance: moguls, woops, bordercross, slalom...
- 127 km of marked trails for snowshoeing, including the Autrans - Méaudre section (9km) of ViaVercors, which stands out for its wild side.
- The Olympic ski jumping springboards from Claret to Autrans also provide a safe introduction to this discipline requiring a sense of balance, coordination and commitment.
Do not miss: the panoramic track on the ridges of the Molière accessible by the chairlift of La Que (paid access) or by the link Gève - La Molière (12 km) enjoying a magnificent panorama over the entire Alps chain.
CONSUME LOCAL
Our local partners are committed to your holidays
QUALITY CHART
All our commitments to have a good holiday
SECURE PAYMENT
Pay securely at Goélia